The SylvanSport GO, dubbed by National Geographic as the coolest camper ever! It can be used for Camper Mode, Gear Hauler Mode, and Utility Trailer Mode. They call it a Swiss Army Knife of camping trailers, just don't expect a bathroom or kitchen.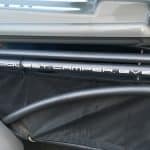 For those not familiar with electric vehicles, towing has been one of the shortfalls for any EV currently on the market. It's worth noting though, your gas mileage drops drastically when towing using a internal combustion engine vehicle too though.
Towing with an EV has been a fairly hot topic online. You can easily search Google on for a lot more information. When you tow, reduced range is ready to follow. Cold weather also affects your range, so if you plan to tow in colder weather you'll be hit with a double whammy. Because of this, I was on the lookout for a light weight trailer we could use for camping, but potentially other utilities as well.
The goal was to find a solution to hauling more gear, but ideally also include at least some camping capabilities as well. We frequently travel with 6 people. That number of people in any SUV typically reduces your cargo capacity. Factor in a Tesla Model X and the falcon wing doors, you also lose the ability to mount a cargo carrier on the roof.
Utility Trailer Mode
This is the one mode I haven't tried yet, where you have to remove the tent enclosure. I did attempt to lift it once, but quickly realized it's not a one person task. Not unless you use some sort of rigging system. Alternatively, if you don't need the additional height clearance, there's also the option to raise the enclosure and place side support railing vertically.
About SylvanSport
SylvanSport was founded in 2004. The company is based in Brevard, North Carolina and was created to make outdoor adventure accessible. The founder of the company wanted a camping and hauling solution to where he could haul his motorcycle for camping trips. Thus, the SylvanSport GO was born.
2018 Model X 75D
Our tow vehicle was a 2018 Tesla Model X 75D. This is all-wheel drive with the 75kWh battery pack. Long story short, we now have a 2020 Tesla Model X "Long Range", but in this article any reference is to the 2018 75D.
Camping Trips – Year 1
The first camping trip we went on with our SylvanSport GO was to Ocean Shores, Washington. This was the first and only time I had to use a TT-30, but I'm glad I had it! We arrived at the campground much later than planned, sometime after midnight. With just a flashlight, I was able to setup the tent in otherwise complete darkness in about 15 minutes. Not bad for only my second time, at least in my opinion.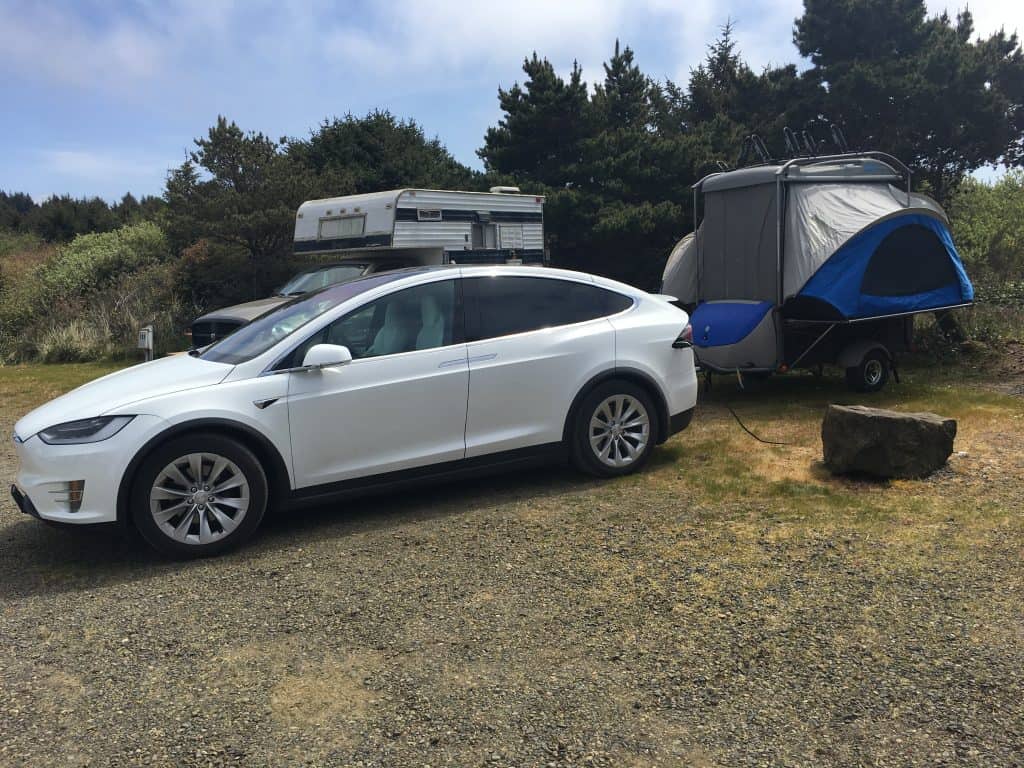 Neah Bay, Washington, the northern most point in the continental United States.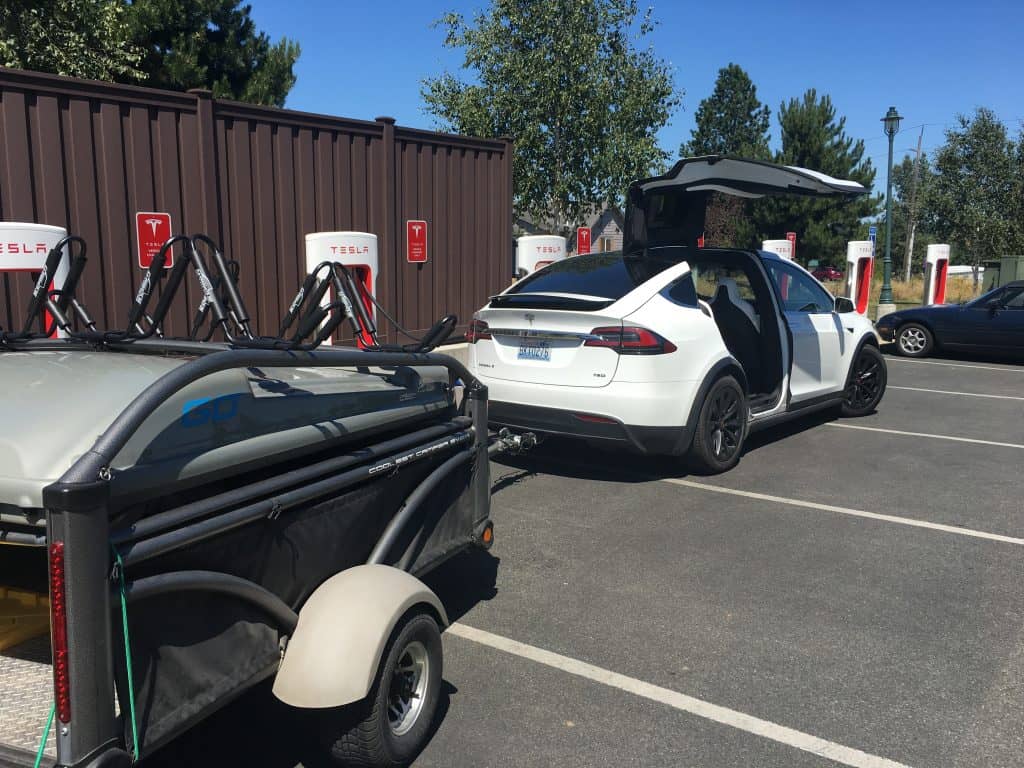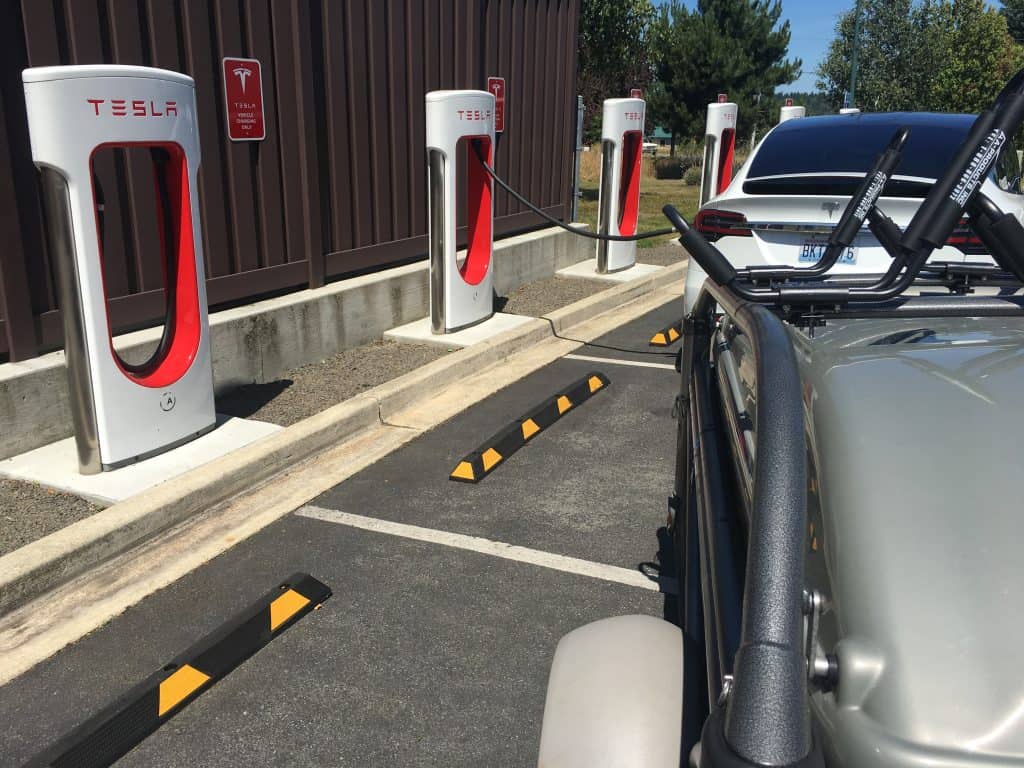 Deception Pass State Park on Whidbey Island. We were able to charge with our NEMA 14-50 here. I don't believe I took any photos here, but we'll be back out there this coming summer.
Camper Set Up
This is a great video from All Seasons RV I studied multiple times. It goes through the setup process for the trailer for camping.
This is part 2 of their videos, setting up the interior. Was there a Sasquatch sighting?
https://www.youtube.com/watch?v=kTVnV_YMr_0
Using the SylvanSport GO for Utility!
I've already used our SylvanSport GO a handful of times making trips to a local (or not as local) hardware store.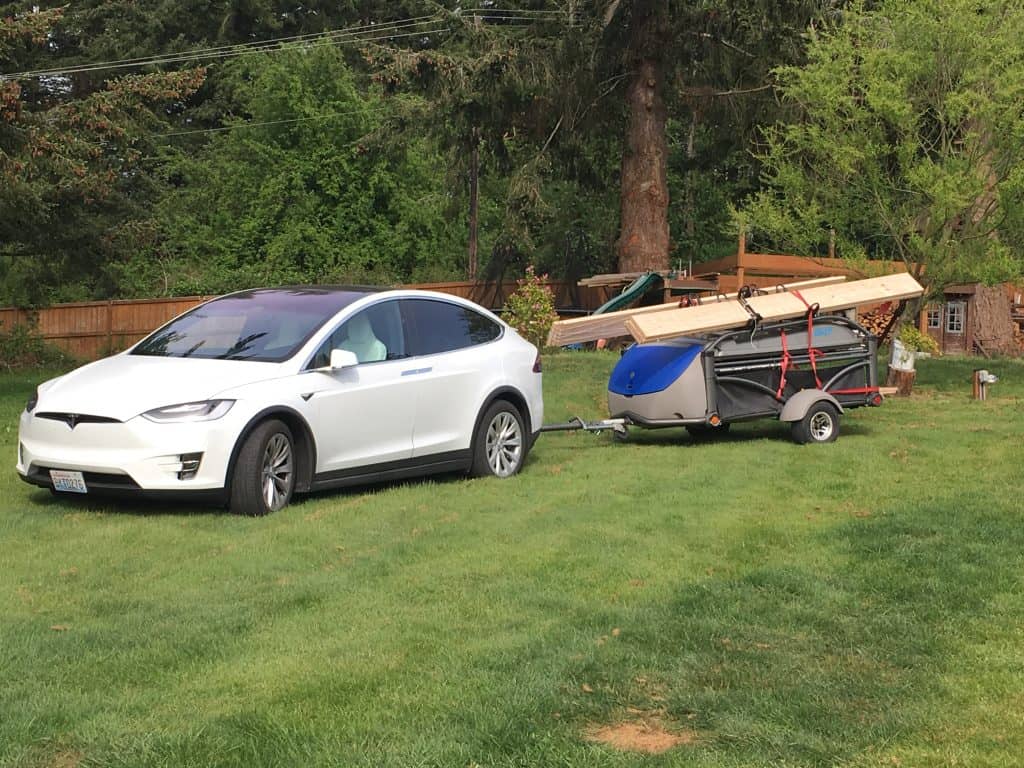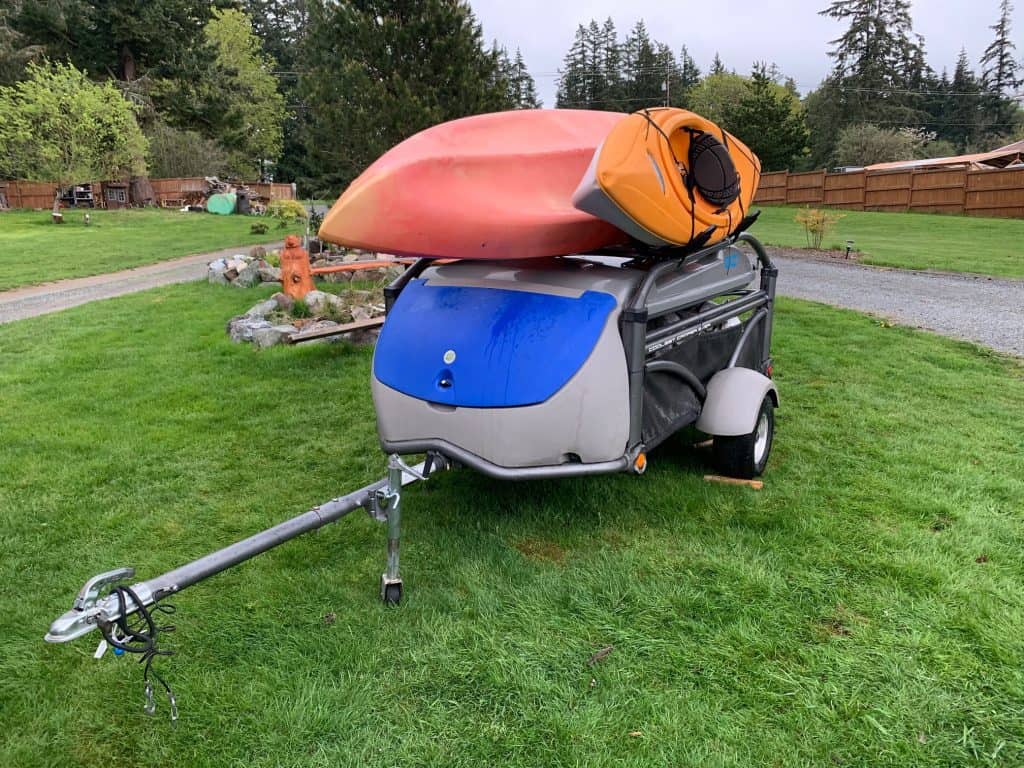 How Much Does the SylvanSport GO Cost?
At the time of this article, they have 3 options at the following MSRP. These are recent offerings, and were not available previously:
(Basic) GO: $8,995
(Middle of the pack) GO Big: $9,995
(Pretty much everything) GO All Out: $11,995
Here's a comparison chart of the additional accessories you get with each package:
Purchasing Used
I'm cheap, but also didn't feel a trailer with a tent was worth the MSRP, which last year was at $9,995. After searching several months, I finally found a couple of used trailers for under $5K. This one I ended up picking up for $3,800. There aren't a lot out there, but what I consider some decent deals can be found. A few recommended sites for searching:
Listhopper – Search all of Craigslist, Facebook Marketplace, and others
RVTrader – Private sellers and dealer listings
A few things to look for with used GO's:
Inspect the jacks, ensure proper function
Verify tent is in good overall condition – you can buy a new replacement tent if needed
Ensure poles rise and lower freely

This is controlled cabled winch system, look under the trailer and visually inspect the cable for any damage

If the owner is willing, highly recommended to verify functionality and conversion.  This helps get you familiar with the process for how to set up!
Factory Accessories
Ours already came with a few accessories.
Tongue Extension
A tongue extension comes in handy carrying longer items such as tandem kayaks and canoes. It's been my impression longer trailers are easier to backup, so I don't see any reason why I'll ever remove the extension.
Cover
Our trailer also came with the custom fit cover, although it had seem better days. Lot's of mildew on it, but I was able to get quite a bit off with a pressure washer. If you plan on storing one outside, a cover is highly recommended.
Foam Deck Cushion
This foam padding provides a softer feel below then diamond plate.
Mr. Stow-It-All Camp and Travel Organizer
Comes in handy for keeping some of your gear organized and out of the way.
Accessories I'm Considering
These are some additional accessories I'm considering.
Over Easy Camp Kitchen
The Over Easy is quite compact when ready for storage. This makes it appealing if we ever decide we want a larger cooking area. I'll likely look at some other brands too as this doesn't directly integrate with the GO anyways.
Over Easy Camp Kitchen on Amazon.com
Waylight
A cool little light that doubles as trekking pole. Some of the key features:

Change between direct light, ambient, or combination at the press of a button
USB rechargeable battery that lasts up to 18 hours
Storage for bamboo skewers
Pole tip can be staked into the ground for campsite illumination
SylvanSport Waylight on Amazon.com
Cloud Layer Sleeping Bag
We have sleeping bags that will work just fine, but these might be replacements down the road when it's time for new ones.
Cloud Layer (Single) Sleeping Bag on Amazon.com
Cloud Layer Double Sleeping Bag on Amazon.com
GoZeebo
Most likely my first separate purchase for a GO accessory. It can attach to the GO for a covered and integrated pass through from the "screen room" to the camping tent of the GO.
3rd Party Accessories
One great feature about the SylvanSport GO is the ability to use various cargo rack attachments. Anything from bike and kayak haulers to cargo carriers and snowboards or skis. If you have something you can attach to the cargo rack of a car, chances are you can mount it onto the GO too!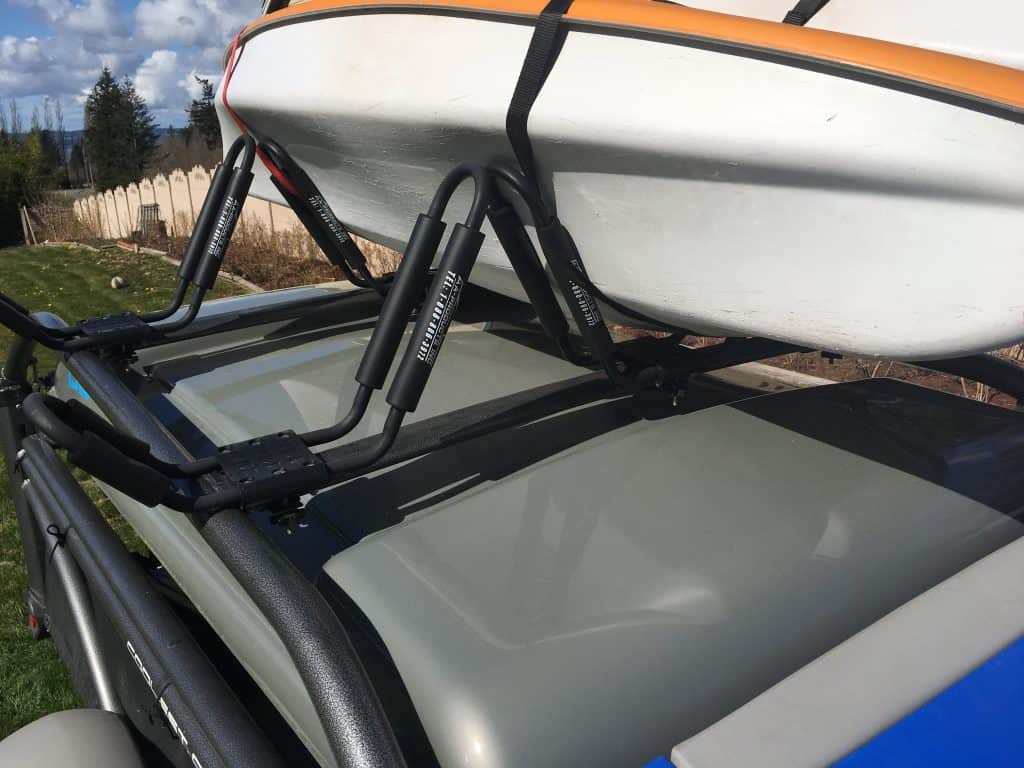 What I'd Like to See Changed
All in all I've been extremely happy with our SylvanSport GO purchase. However, there are just a couple minor things I would like to see changed.
Length
In Transport mode, you have 84x48x48″ of storage. If they had just added some more length so you can fit a full sheet of plywood, this would have been perfect! However, you can still use straps and have a foot of of plywood extending out of the trailer. This results in the license plate mount/step having to be removed or hanging down. This no longer gives visibility of your license plate.
In conclusion, it's shorter than your standard sheet of plywood, but still workable.
Step Assembly
This is one thing I would like to see a bit more thought into. It is meant to stay in an upright position with velcro, yes, velcro. Mine is a bit older, but I failed to notice it would soon break. Going down the highway the velcro strap broke and road rash on the plastic was the result.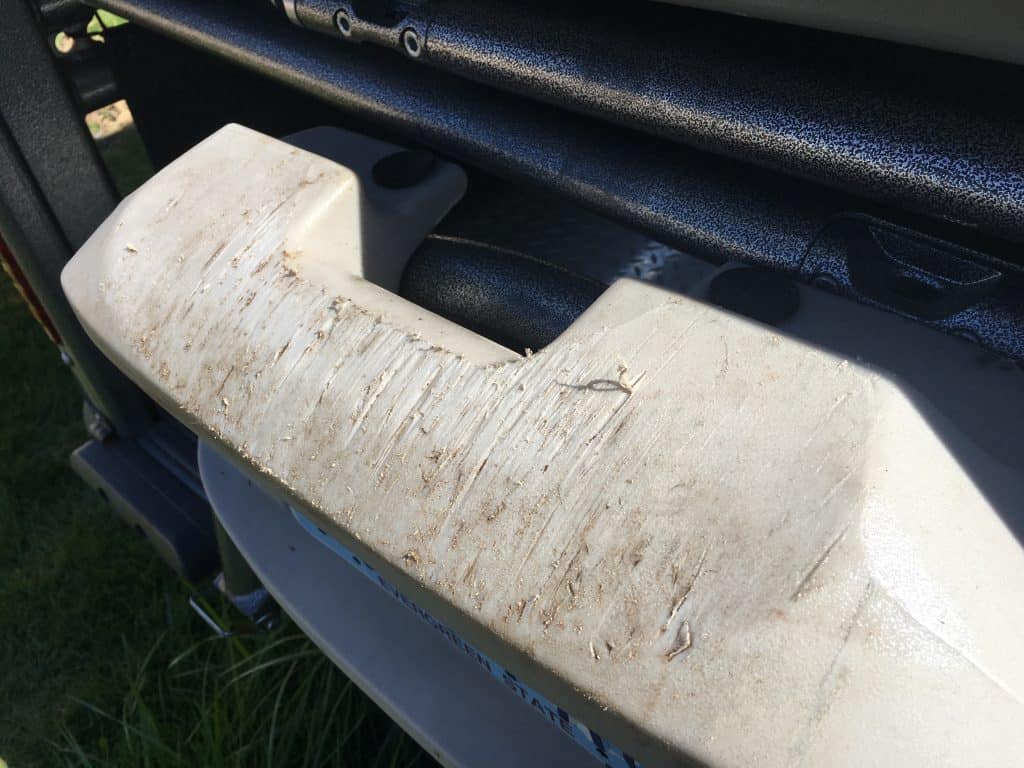 Larger Overhead Storage
It would save a decent amount of time if the primary mattresses could fit above without being deflated. I'm not sure if this has changed on new models, but on mine you've got to get the air out.
Learn More!
Check out more from SylvanSport, including their other trailers. www.SylvanSport.com
Trailer Tow Range Comparison
I also own a 6×12 enclosed cargo trailer. It is substantially worse on range. Expect an upcoming article comparing the range between towing the two trailers.