Wanting to be able to haul small loads around our property, I was looking at small trailer carts to use with my zero turn lawnmower. I wasn't looking to spend too much, and ultimately decided on the HaulMaster 10 Cubic Ft. Heavy Duty Trailer Cart.
After some quick research online, I had my selections narrowed down to 2 choices. The Agri-Fab wasn't available in store, and I was trying to get some work done around the yard before it would have arrived. So, I opted for the HaulMaster, but was it the right decision?
Specs
| | | |
| --- | --- | --- |
| | HaulMaster | Agri-Fab |
| Weight Capacity | *600 lbs | 350 lbs |
| Load Capacity (Cubic Feet) | 10 | 10 |
| Tire Size | | 13 |
| Wheel Type | | Metal |
| Material | | Steel |
| Hitch Pin Included | Yes | Yes |
| Removable Tailgate | Yes | Yes |
| Cart Tilt (degrees) | | 20 |
| Length | 60 | 60 |
| Width | 30 | 33 |
| Height | 30 | 28 |
| Bed Height | 11.5 | |
| Convert to Push | No | No |
| Assembly Required | Yes | Yes |
| Finish | Paint? | Powdercoat |
*I'm not convinced of this rating, look at mention of tire rating

The design of these are quite similar, I wouldn't be surprised if these were built by the same manufacturer and rebranded. The Agri-Fab Dump Cart has a design stamped into the tailgate, but nearly every other component seems identical. At least from what I can see with the photos online.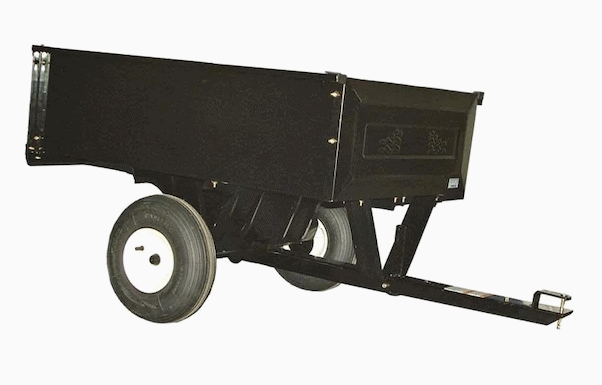 Load Capacity
One reason I went with the HaulMaster over the Agri-Fab was the load capacity rating. The Agri-Fab listed a 350 pound capacity, whereas the HaulMaster stated a 600 pound. However, I'm a bit skeptical over the HaulMaster rating. The bed is constructed from thin sheet metal with seemingly limited reinforcement.
I took a closer look at the tires the next day, they're rated for 430 pounds. I'm definitely not buying into the 600 pound load capacity now.
Assembly of the HaulMaster Dump Cart Trailer
Assembly was fairly straight forward, with minimal differences with assembly hardware. For the majority of the assembly, you're using the same bolts over and over again.
Quality of the Instructions
I might be in the minority, but I try to go through instructions step-by-step to avoid missing a critical step that would require un-assembling and re-assembling later. Far too many times I've installed something out of sequence when not following the instructions step-by-step.
Admittedly, these are the two errors I made in assembly. The instructions didn't indicate the full length of the material. I mounted one of the axle brackets at the very back row, this was incorrect.
Towing the Trailer Cart with a Zero Turn Mower
Using the all-electric Ryobi Zero Turn Mower , the trailer is definitely the louder part of the operation. There's various squeaks and rattles using it as it has a tendency to bounce around a bit. If towed behind a gas powered mower, I'm sure they wouldn't be heard. It's not annoyingly loud, but I found it ironic. Someone will hear you coming up towing the trailer before they hear the mower. Not that I'm trying to sneak up on people with my mower or anything.
This could make things easier, but at the same time more problematic. On day one of usage, I apparently managed to cause the trailer to bind at it's limit, thus bending a bracket. This bracket made from plate steel, and ironically the thickest metal on the trailer. That wasn't enough to prevent it from bending, nor will it make it easy to try and bend back into place.
I drew some lines to get a measurement in Photoshop, the bracket bent approximately 10.5 degrees. It's still functional, although at this point I think I might have to "jack knife" the trailer the opposite direction to see if it will bend back. They always say metal has memory. I'm just not sure when it happened from the limited use (less than 20 minutes). Certainly something to watch out for in the future.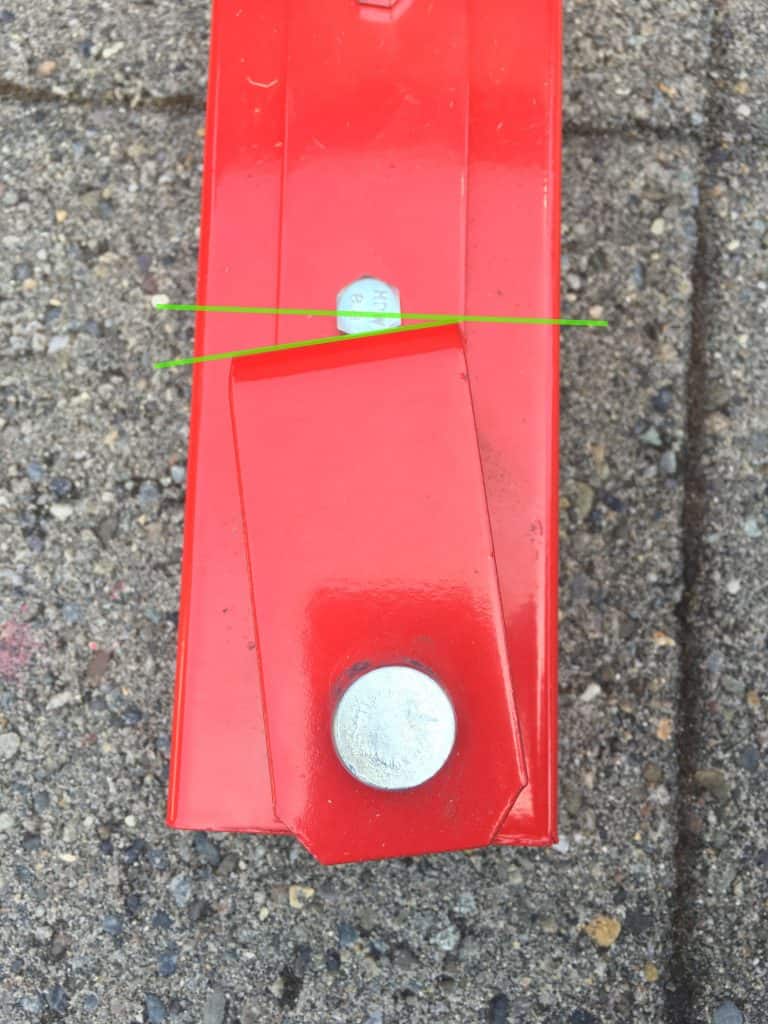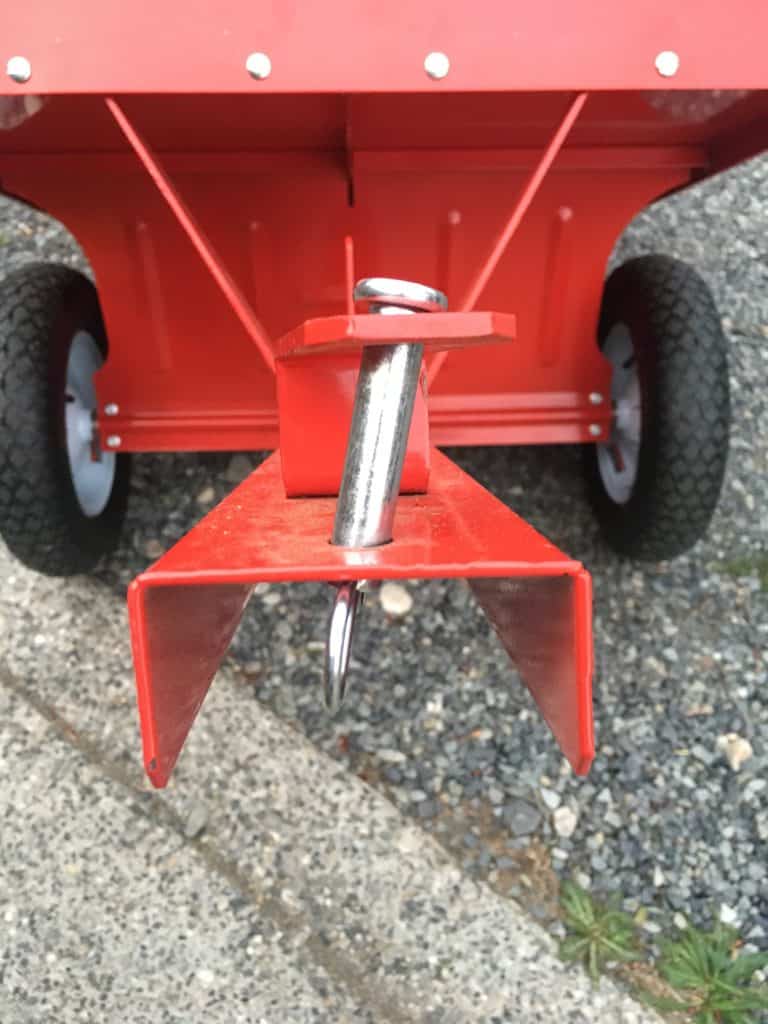 On the hitch pin topic, the Ryobi riding mowers come with a trailer hitch, including the non-zero turn models. Personally, I've never used this style hitch before, I'm a bit concerned if I'll start seeing paint wear off soon. Both on the mower as well as the trailer.
Trailer Dump Function
A simple release pin allows you to use the dump. This can come in handy for spreading mulch, dirt, rocks, or other materials. The Agri-Fab trailer cart lists a 20 degree cart tilt, I'll have to measure the HaulMaster if it doesn't mention it in the manual.
Even if you don't plan to dump a lot of items, it can come in handy when you do have use for it. There are some static trailers out there, but in my opinion, it's worth leaning towards one that can provide tilt, just in case.
Durability
It appears to be painted and not powder-coated. Time will tell how durable it is. I plan to keep it stored out of the weather, so that will help to some extent, but if scratches start to form it may require some refinishing. Bending the hitch bracket on day 1 certainly wasn't a good measure of durability so far either.
Practical Uses
I've used mine to move a chicken coop so far, straddling it over the sides (probably not recommended). I'm sure I'll get a lot more use for some of the following:
Moving dirt/gravel material
Hauling mulch
Removing cut branches and other yard waste
Trailer rides for the 4 year old
Carrying archery equipment to our backyard archery range
Setting up/moving Christmas decorations in and out of storage
Agri-Fab vs. HaulMaster Trailer Cart
The HaulMaster was $20 cheaper, but in my opinion would have been well worth it for the powdercoat finish. Again, I need to verify, but I'm fairly certain the HaulMaster is merely painted. From a color aesthetic, the red of the HaulMaster probably goes well with some Craftsman, Toro, and Troy-Bilt mowers. With the Ryobi however, I'm going with a bit of off Christmas colors with the bright green of the Ryobi. I don't think I'll get much flack from the neighbors about it though.
Here's the Agri-Fab Dump Cart on the Lowe's website:
https://www.lowes.com/pd/Agri-Fab-Dump-Cart/1000553611
And the HaulMaster Heavy Duty Trailer Cart at Harbor Freight:
https://www.harborfreight.com/10-cubic-ft-heavy-duty-trailer-cart-64831.html
Clanging Noise
The trailer is definitely becomes the louder, more obnoxious piece in this setup. Especially when used with an electric mower. You'll find the hitch constantly clanging as you drive. I'm sure a ball hitch setup would be much quieter.
More Brands/Options
There's certainly more lawnmower trailers/cart trailers that are on the market. I'd be curious if there's advantages of ball hitches over pin hitches, I may have to look more into this later.
I had an immediate need to move some items on my property and didn't want to spend more than $150 for a solution to do it. The HaulMaster should get a lot of usage from me over the years. I may have to look at reinforcing some areas to make it strong, but we'll see how things go.