Update: Our mower is current in the shop for significant battery degradation after less than a year of ownership. It has only a one year warranty on the battery. The service center stated it will likely take 4 weeks before they can even look at it. More to come.
Here it is, the Ryobi Electric Zero Turn mower. I've been keeping an eye on this one for over a year now, waiting to see how much it might go on sale for while trying to keep our old zero turn going. I've seen this on sale for anywhere between $400-600 of the retail price, but also seen the MSRP go up by $100.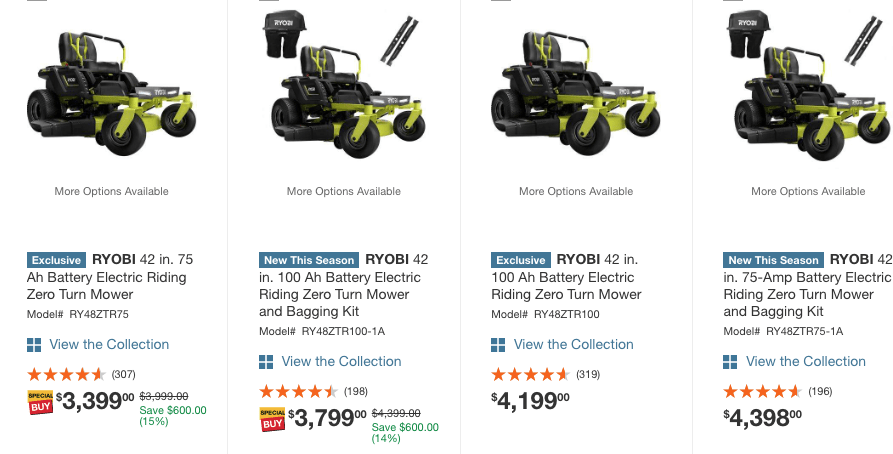 Ryobi is a Home Depot exclusive. Their lineup of lawnmowers is no different. Currently, you can find their traditional electric riding mower in certain stores, but the zero turn is an online-only order. Both are available with 2 battery options, a 75Ah version and a 100Ah.
Bagger Kit
Both the Ryobi electric zero turn mower and traditional riding mowers can be purchased as a "bundle" with a bagger kit. If you need a bagger, you'll save some money buying it in the bundle. With current pricing, you'll pay an extra $200 for the bundle, or if you buy the bagger kit separately it will set up back $349.
Damage During Shipping
The corner post of the metal shipping frame is bent in, that's my mower on the top. There's also a plastic corrugate trim at the bottom, that should be flat going across. More on shipping damage in sections below.
Assembly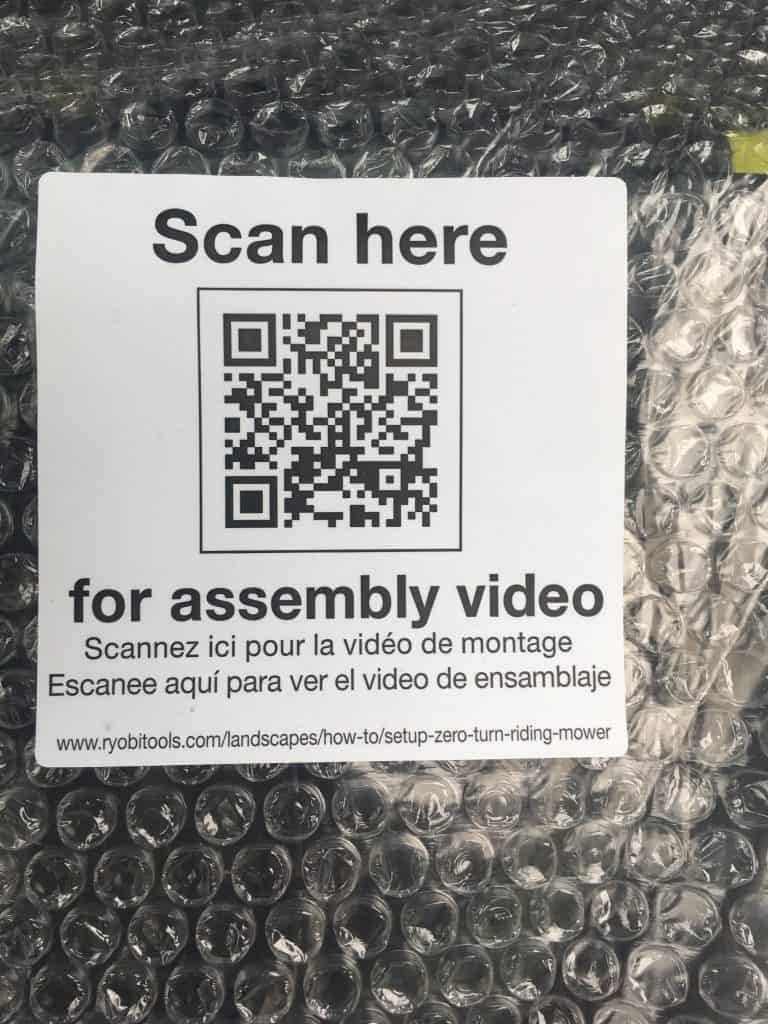 Assembly is pretty straight forward. Before you assemble however, you'll have to remove the mower from the metal shipping frame/crate.
Once the mower is off the shipping crate, you'll need a 12mm, 13mm, and 14mm sockets and/or wrenches. The only parts you need to install are the driver levers (handle bars), tow hitch (if desired), and the seat. You'll also connect a wiring harness located in a panel below the seat mounting area.
Be sure to checkout Ryobi's step-by-step video for details:
https://www.ryobitools.com/landscapes/how-to/setup-zero-turn-riding-mower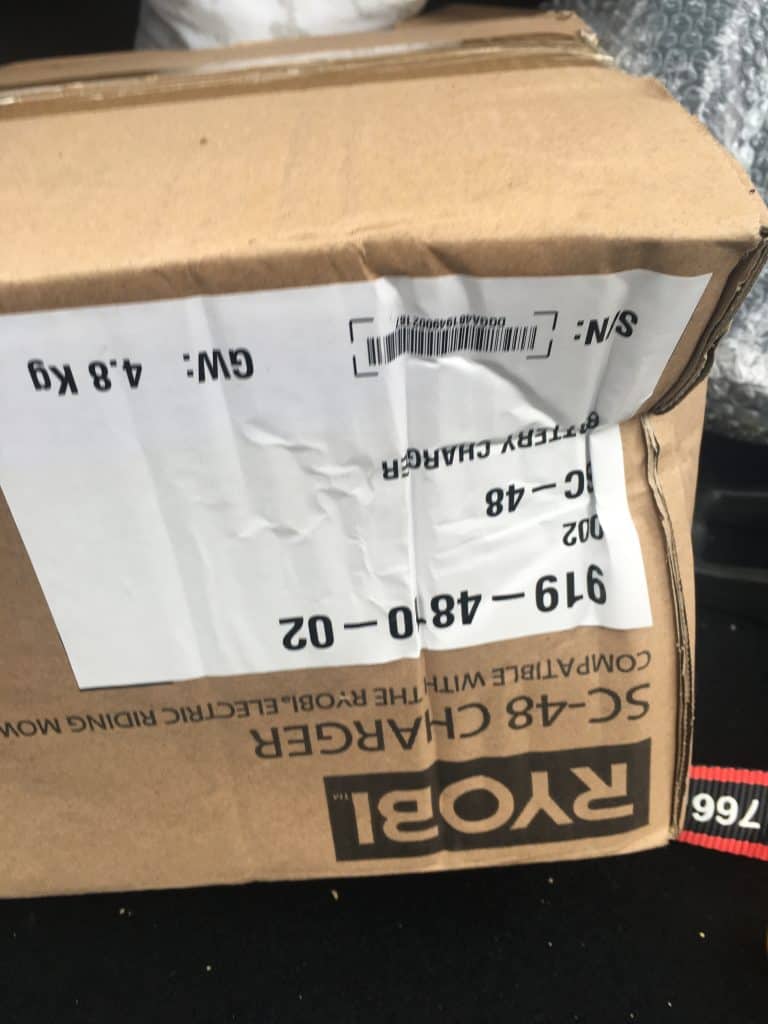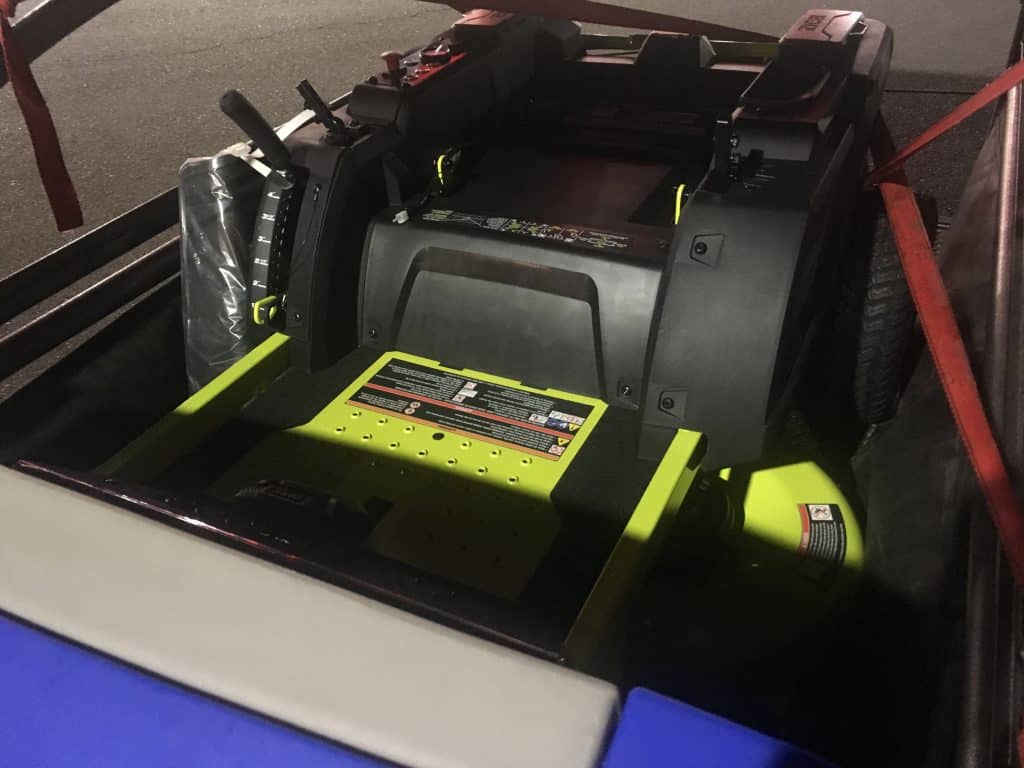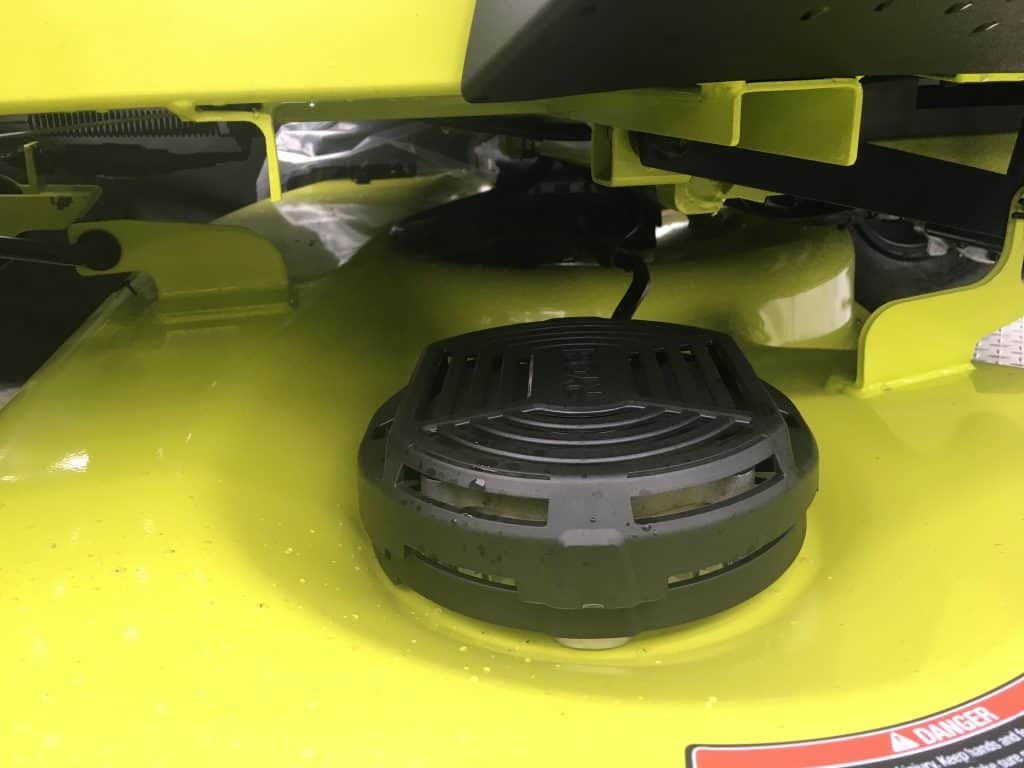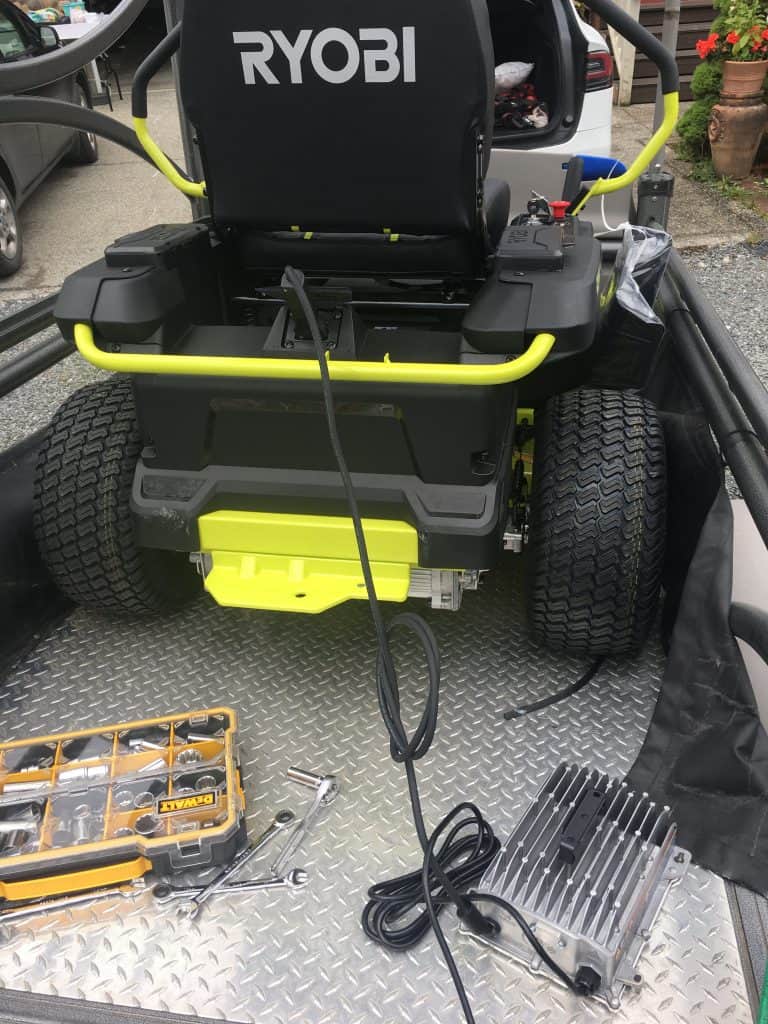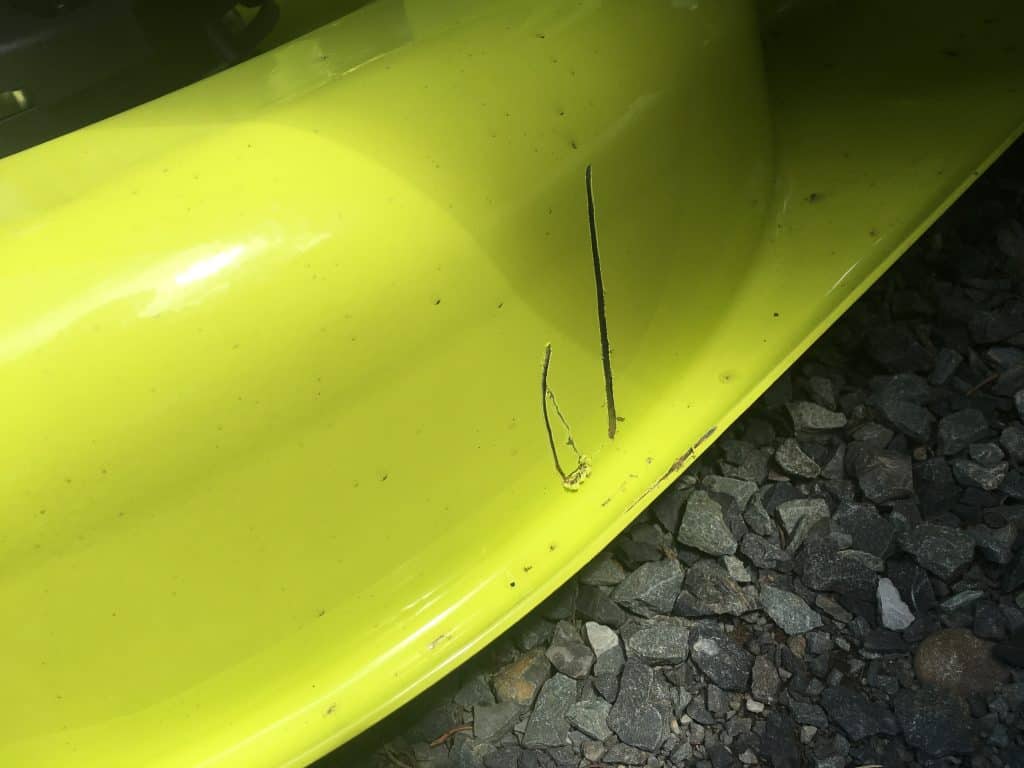 Battery Care
The Ryobi manual didn't provide much in terms of battery care, read what you can from the manual including making sure you leave it charge overnight before you first use. This article seems to have additional information that can help prolong your battery life:
https://mycountryacre.com/5-ultimate-electric-riding-mower-battery-care-tips
Cleaning
Directly from the manual: Do not spray with a garden hose to clean, as it may damage the battery and/or electronic components and result in a short circuit or fire. Use an air moving device, such as a compressor or leaf blower to clean the mower.
Quality and Performance
You'll notice if you're trying to mow taller grass too short that one or both of the blades will cut off. I have some taller grass in the back that will take at least 2-3 cuts to get manageable, but it should get there. I'm just now starting my second cut in that section while still trying to "break in the battery" and not let it go below 70% for the first 10 mows. I'll add some video of it in action later.
No Belts, Spark Plugs, Air Filters, Mufflers, Pulleys…
I replaced several deck belts and spindles on our previous zero turn. Cleaned and changed spark plugs and replaced an air filter. I managed to rip the muffler off a few times when taking a certain slope toward the back of our property at the wrong angle. I definitely won't miss these parts that aren't even on our new Ryobi electric zero turn mower!
And of Course, No More Gas!
This was the only thing I was having to get gas for on a regular basis. We still have a few dirt bikes and an ATV that aren't used very often. Over the years I've added Kobalt lawn care tools to our "shed". I'll add reviews on these in a separate article.
3 Month Update
So far I've been happy with the Ryobi Zero Turn mower. There are a couple of things in particular I'm going to keep an eye on though.
Range: For the 100aH version which I purchased, Ryobi claims up to 3 acres of mowing. I'm unable to mow our 1.86 acres on a single charge. A good portion of our property has a slight slope, however the backend of the property is quite flat. At least in my opinion, it seems I should be getting quite a bit more out of the battery than I am. I'll continue to do some testing and may need to have the cells tested. I've read where some owners have had one of the four cells test out as bad.
Mulching: The mulching has left large clippings, especially with slightly taller grass. Our previous Troy-Bilt zero turn mower was far better with mulching. I may need to rake up some of these clippings and see how it does when the entire lawn is already cut shorter to see if it can keep up.