The Sherp line of off-road vehicles. Their line of vehicles are designed to function in extreme conditions. A very unique design, it can handle snow, ice, and forge over water. Sherp has a diverse user base. Geologists, oil workers, fishers, hunters, thrill-seekers, and discovered.
The Sherp Even Floats!
On their website it mentions the total volume of these massive wheels gives a displacement of over 7,000 lbs. This is what allows the vehicle to float on water, even with zero tire pressure. The body is designed to prevent water from enter the compartment. It claims that the vehicle can also easily get out of water and onto ice.
Specs
44.3 horsepower
24.5 miles per hour on ground
3.7 mph max speed on the water
2,204 lb capacity
35 degree approach angle
23 inches of ground clearance
63×23-25 Tires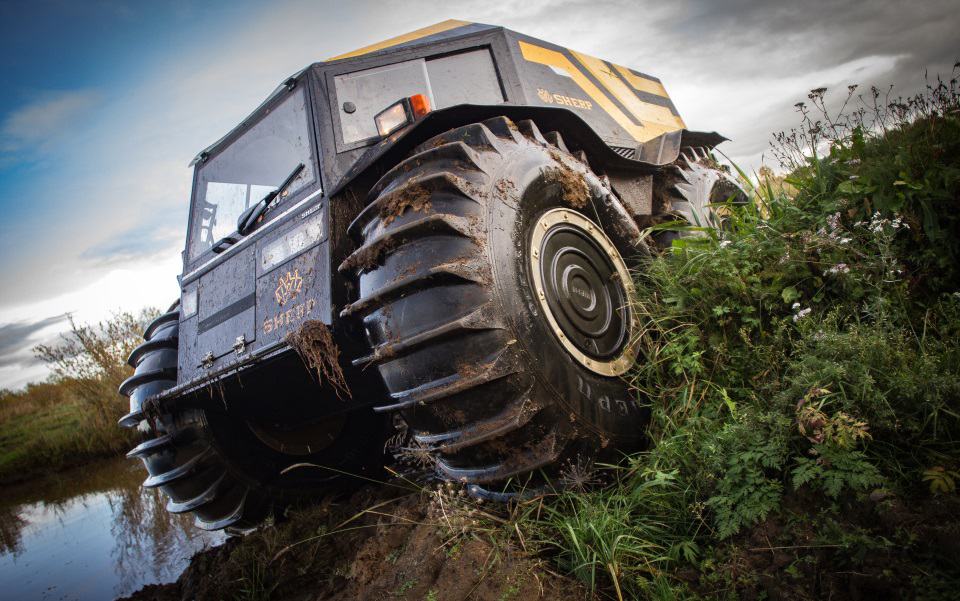 Another video, this one Jay Leno takes Kevin Hart for a drive. This is what happens when you put two comedians into an off-road vehicle!
Jay Leno and Kevin Hart – Behind the Scenes.
You can check out their website for more on their vehicles, including a truck version, but also trailers as well.
If you like this, also check out the Ariel Nomad.