In a Tweet yesterday, Elon Musk gave a brief update on the Cybertruck. They are working on increasing dynamic air suspension travel for better off-roading capabilities and that it needs to be able to "kick butt" in Baja. Does this mean Tesla could potential sponsor a race team or start their own?
SCORE International
Southern California Off Road Enthusiasts (SCORE) is an off-road racing organization. They are best known for their San Felipe 250, Baja 500, and Baja 1000 races. The races are open to several different vehicle types including the trophy trucks and Class 1 unlimited series which are full-blown, almost Nascar type-built off-road vehicles. From there, you can go down to various trucks and the Class 11 and 12 series for Volkswagen Bug's. Dirt bikes and ATV's are also in the fold.
We're working on increasing dynamic air suspension travel for better off-roading. Needs to kick butt in Baja.

— Elon Musk (@elonmusk) April 16, 2020
Which Class for the Cybertruck?
If Tesla was to put their own race team into the mix, would they work with a fairly stock vehicle or something modified? Depending on how modified the vehicle is would affect which class it falls into. Many classes also have requirements such as roll cage specs for safety and other items. This is a screenshot from Wikipedia for the various race classes for cars and trucks in SCORE.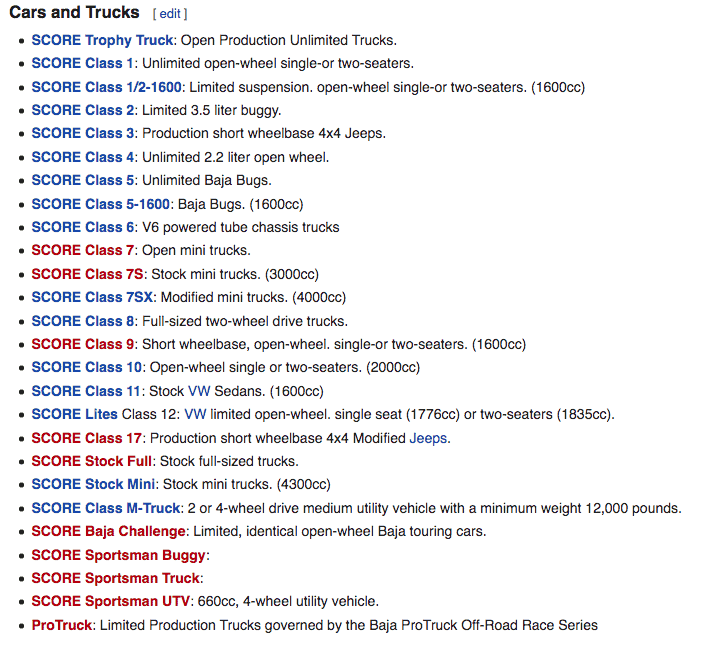 Other Baja Tested Vehicles
Ford creating marketing material for their Ford Raptor SVT
Desertchief on Instagram posted this rendering of a Cybertruck with Trophy Truck styling.
More Tesla Cybertruck Articles
Checkout a visual effects update on the Back to the Future scene at the mall where the Delorean is replaced by a Cybertruck! Post on Fabville here.