Concrete Fencing – Product Review
At our previous house we had a wood fence that despite being stained every couple years was noticeably weathered. I had to replace two posts, repair the gate a couple times (mostly from sagging issues), and also straighten multiple posts that began to lean. I remember when we had the house built and a fence was including the build. The building inspector mentioned that the fence would probably last 5 years or so, we managed to double that. However, if I had to guess, it probably didn't have too much longer to go.
Our Needs for a Fence
Keeping Our Dog Contained
Needing to keep our dog from running off, we were looking to have a fence installed when we moved. I was looking for something would be long lasting and very limited on maintenance. Atop the wish list was something that would not rot, rust, and would not need tons of maintenance. Cost was also a major factor. I was also concerned about the durability of plastic fences that were available, both structurally and against UV discoloration.
Low Maintenance, Long Lasting
While I was searching for options, I came across Fence for Life who serves Western Washington. They mentioned the downside to metal or wood fences on their website and the advantages their fences offered with the motto "do it once for life". Their fences are pre-casted from a reinforced concrete with several different styles and height options available, even the posts are made from concrete that is reinforced with rebar.
Posts are often times the first failure of traditional wood post fencing. Therefor, seeing they offered concrete posts certainly was intriguing. These fences are advertised as maintenance free and are supposed to withstand 85mph winds, but you may need to give them a pressure wash every couple years. My only real concern at this point is if the ground gets too wet and if that causes the posts to lean. The posts are 2-3 feet in the ground, so hopefully everything holds up.
Installing a Concrete Fence
While Fence for Life does sell the panels and posts for owner-installation, this wasn't a project I had any desire to take on. We had zero hesitation having them do the installation. Just two crew members, they were able to install the entire fence in just 3 days. They showed up with their flat bed truck and just enough posts and panels to keep them busy for the entire day. On day 2, they arrived with another batch of panels and posts. For day 3, it was a small remaining batch and they finished up in the early afternoon.
Some photos of our concrete fencing installation:
The inward facing side of the fence panels do not have a decorative pattern like the outward facing, rather they are just flat. Having the pattern on both sides would certainly have improved the overall aesthetics, but it is what it is. I imagine other companies may have their fences patterned on both sides. This view shows how the 3.5 panels were stacked and slid inside the post slots.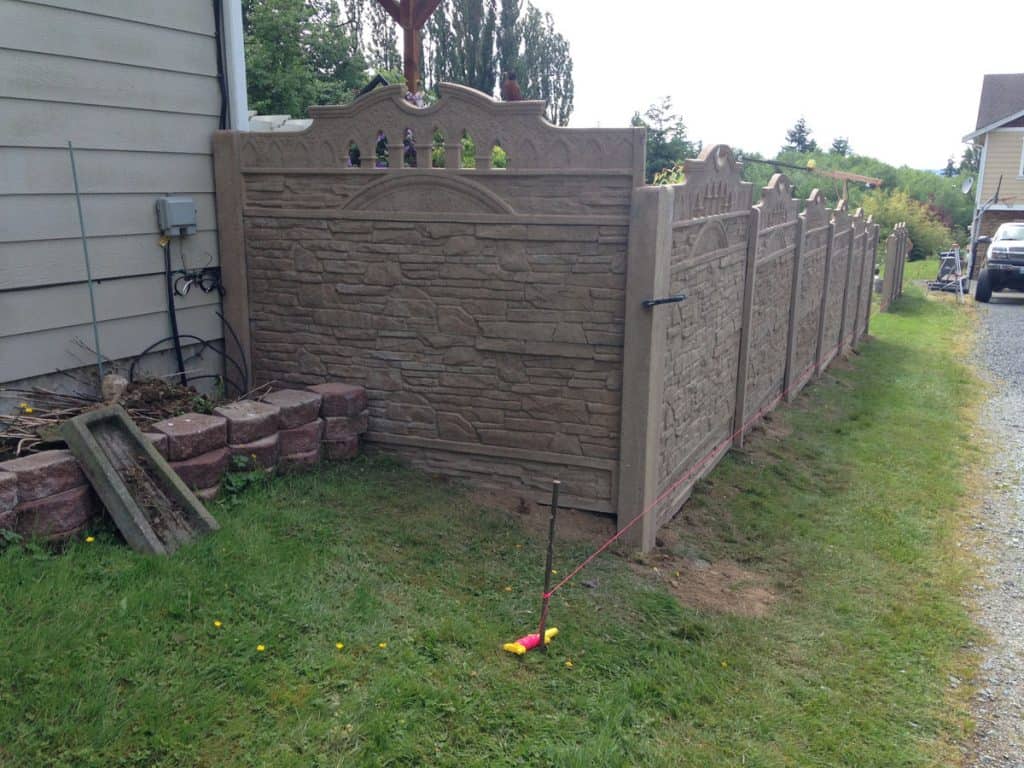 Installing a Concrete Fence On a Slope (or Any Fence)
Our backyard gradually slopes down and major excavation was never a consideration, so the majority of our concrete fencing gradually descends in a bit of a staggered manner. Bringing in an insane amount of fill really wasn't an option.
How Much Does Concrete Fencing Cost?
When we first purchased our fencing, the price was surprisingly comparable to traditional cedar wood picket fencing. If we went with a cedar fencing and decided to stain it ourselves, the cost likely would have been greater than the precast concrete fence. Inflation has definitely caused prices to go up for several materials including lumber and concrete. It's best to check current pricing in your area. Concrete fence pricing will certainly vary by location as well, but I would recommend getting a couple of quotes for more traditional fencing to do a direct comparison for your area and exact needs.
Concrete Fence Review Updates
Quick April 2020 Update – Living in Western Washington we get a lot of green algae build up outside. I thought for sure we'd experience this on our fence, especially on the north side, but no signs yet!
August 2023 Update: We do have some discoloration and some of the green algae finally starting to appear on some northern facing sections. The dark discolorations seem to be mostly at the top. I'll have to get the pressure washer out and see how it handles the darker areas and the algae, but other than that, no issues whatsoever.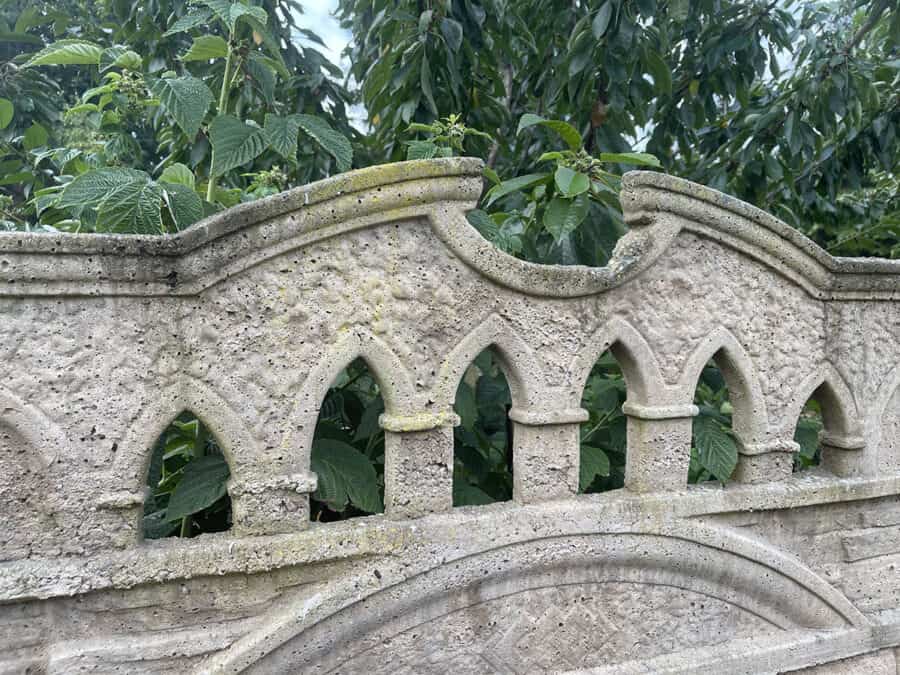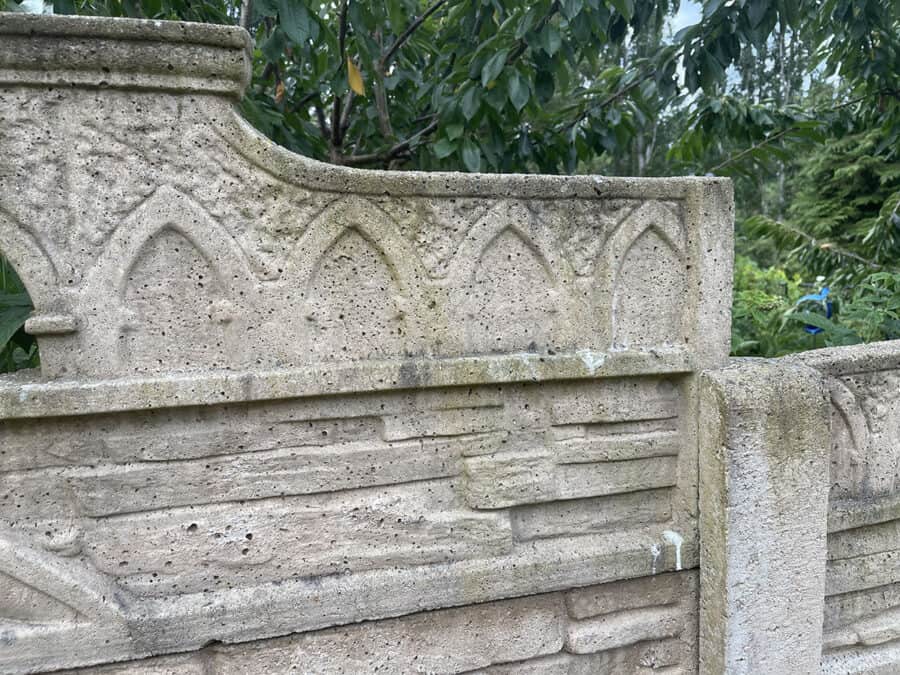 Summary
We've had ours installed since just May 2015 now, so far so good. Certainly pleased with how everything has held up and so far as been completely maintenance free. I'll probably have to do some pressure washing at least on some of the north facing panels.
Check out the custom pedestrian gate I built: https://fabville.com/custom-diy-steel-gates-the-52%e2%80%b3-four-foot-gate