Weighing in at under 1,490 pounds, the Camp365 Trailer is fairly new entrant into the small camping trailer category. It appears they debuted this model in 2019. They've dubbed it as the World's First Fold-Out Cabin.
Towing
The Camp365 trailer can be towed with any vehicle equipped with a Class I trailer hitch. They mention the Toyota Prius and Ford Taurus able to handle towing it. The manufacturer also claims it's easier to tow then other small trailers such as teardrops. I'm curious to know more details on how they compare.
Adjustable Wheel Base
The wheel base can be adjusted with a simple crank. With the trailer slightly raised up on jacks, you can adjust anywhere between 48″ up to 72″. A narrower wheel base can make storage easier while going wider can provide additional stability, on or off road.
Interior and Sleeping Space
The Camp365 can sleep 6. It has a queen size bed and two optional bunks. While it doesn't appear to include a toilet, it does provide a shower and hot water heater.
Optional "Toy Racks"
Camp365 also offers accessories to carry items such as paddle boards, canoes/kayaks, bikes, and also storage containers. Having accessibility (and the capability) to haul these items lower to ground makes it a lot easier than having to load them on top of a roof rack on your vehicle.
Price
On their website in the FAQ's, it mentions the base unit starts at $19,995. With additional options you can find yourself into the $23,495 and $32,995 price points.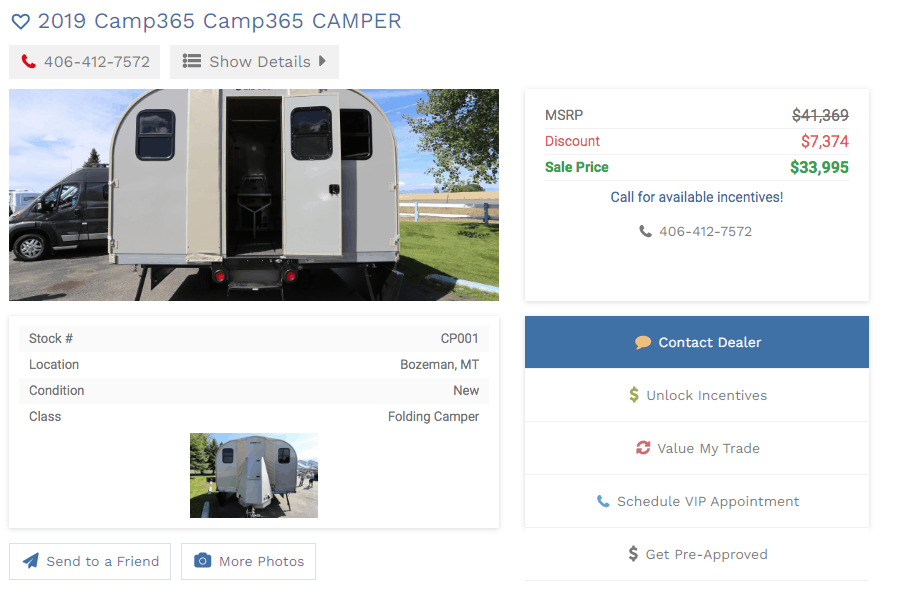 The cheapest MSRP I saw from this particular dealer was over $35K – I'm not sure if dealers typically show inflated MSRP's or not. Depending on the options you're looking for, you can be over $41K MSRP (if not more). I'm going off a small sample size of one dealer's current listings.
More on the Camp365 Trailer
For more information on the Camp365 trailer, be sure to checkout their website at: https://camp365.com/
Other Lightweight Trailers
While not quite an apples to apples comparison, the SylvanSport GO has to also be considered in this market for lightweight trailers. It doesn't sleep as many people, but it is 1/2 to a 1/3 the price and over 600 lbs. lighter. If you're looking for a lightweight trailer, be sure to also checkout our post on the SylvanSport GO. If standing height isn't of concern, various teardrop trailers are also on the market. Just do a simple Google search. Depending on your needs, there's some interesting designs in the lightweight camping trailer market!