Timeless Kustoms built this over the top Ford Mustang.  Surprisingly, it wasn't the first Mustang the owner had them build either.  The car started off as a 1965 Mustang Coupe, but received Fastback treatment along with a host of other custom metal fabrication during the build.
The owner of this car wanted to build something that could be taken to SEMA. But that wasn't enough, he wanted a vehicle that everyone would be talking about.  I would say mission accomplished!
In parts alone, with nothing assembled, this vehicle was already into hundreds of thousands of dollars. This started the journey of transforming this vehicle into a million dollar Mustang.
Donor Vehicle
This started out as a 1965 Mustang Coupe that needed a lot of work. The idea was to start out with a low dollar donor car. This was to ensure they weren't ruining a car that should have been restored and preserved to it's original condition.
9 months to build start to finish with 10,000 hours.  With the amount of custom work involved, this is a very short time frame!  All of this came out to a final price tag of $1 million dollars.
Warning to the purists, there are some Chevy components installed on the suspension.
Powertrain
The car is powered by a Ford Coyote 350R 5.1L motor, all alloy aluminum motor. This car is producing 1,000hp at the rear wheels!  Top speed is expected somewhere around 230 miles per hour.
0-60 hasn't been tested, but is expected somewhere in the high 2's, around 2.8 or 2.9. While the rear wheels are producing 1,003 hp, but with some tuning they expect it could get around 1,250 hp at the rear.
Compound charged. This is a new term for me, but not only is it twin turbo charged, but also supercharged. A custom bubble on the hood was fabricated to provide clearance for the supercharger. Typically runs 26 pounds of boost.
Transmission
Sequential 6-speed transmission from Emco, similar to what is used in GT3 race cars. Rather than a stick shift, the chose was to go with paddle shifters instead.
Paint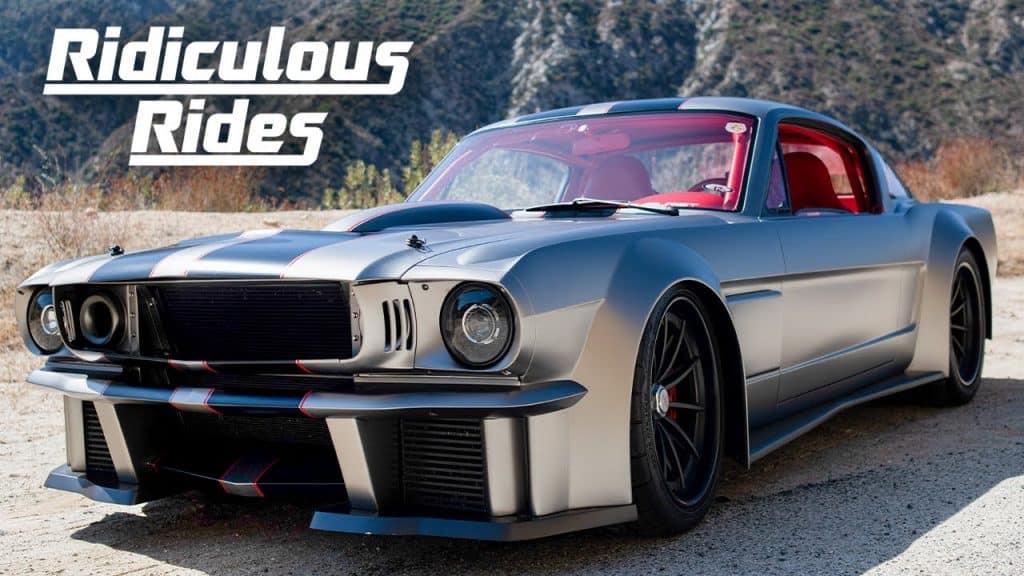 Paint is a custom mix from PPG which has been named Vicious Silver. It also includes a black racing stripe accented with red.
Wheels and Brakes
Custom Forgeline wheels measuring in at 19×12's up from, 19×14's in back.
At each corner you will find 15.5″ Brembo ceramic brakes
Plenty of Exterior Fabrication!
Tons of hand fabrication went into the custom metal body work. Clearly, this is what helped push the budget to make this a million dollar mustang.
A fastback conversion thanks to Dynacorn sheetmetal and air splitter up front were just a couple of the custom exterior modifications. It also includes several air intakes that are fully functional. Custom fender flares help accommodate the larger track width. Measuring in around 3.5″ of flare up front and 5″ in the back. Glass has also been flush mounted.
Interior
No creature comforts. No expense spared when it comes to performance, but it also doesn't have any A/C or stereo! It also have very little sound deadening material or heat treatment.
Very red interior including red tint. Interior is raced themed, but does have finer touches as well with some leather. A MoTeC onboard management system is used instead of traditional gages, a certain race touch which can be programmed to display various vitals.
Rear End
Art Morrison IRS based on a 2010 Camaro with 3.7's.  The front suspension includes Corvette components.
Weight
3,450 pound dry weight.
Visit to Jay Leno's Garage
The Price – Yes, It's a Million Dollar Mustang
If you had the means and disposable income, would you have a million dollar Mustang built? It's very cool build, but there are certainly some faster vehicles coming off the assembly line. This has some extreme attention to detail though and certainly is a one-off.
More Automotive Articles on Fabville!