I thought the FSD may have been in 2020.44 when I first saw the notification that an update was available. However, while some owners have received the full self driving (FSD), I'm still waiting. Let's take a look at what is included in 2020.44…
Autopilot Set Speed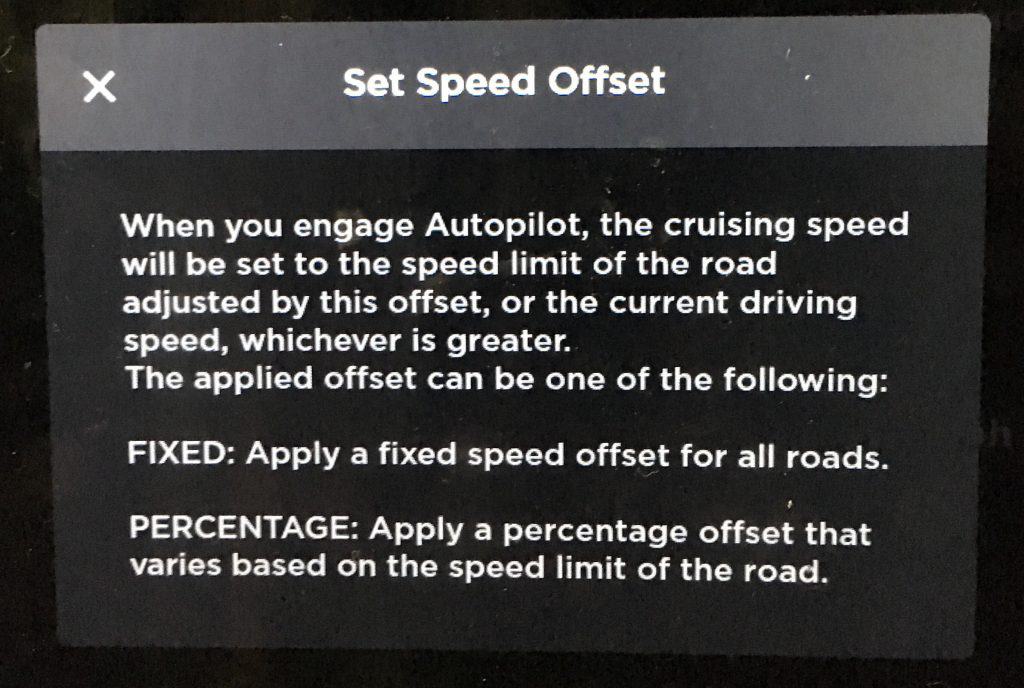 In the release notes, it states that:
You can now change the Autopilot set speed offset by adjusting Controls > Autopilot > Set Speed Offset.

The Set Speed Offset can be configured to a FIXED speed offset for all roads or to a PERCENTAGE that will vary based on the speed limit of the road.

When activated, Autopilot will set the cruise speed to the speed limit of the road, and will adjust either to the Set Speed Offset that is specified or to the current driving speed, whichever is greater.

Note: Your previously set speed offset will not carry over to the new Set Speed feature.
It's not clear to me the difference with this new Autopilot Set Speed and the older Speed Limit Offset. It mentions the old set speed offset will not carry over to the new set speed feature, so does that mean the old one will be phased out in an upcoming update?
Spotify Improvements
I personally don't use Spotify, so I won't be able to test this one on our Model X, but might talk to my daughter about it to see if she's noticed improvements on her Model 3 with the Spotify app. Here's what the release notes say:
Spotify has been updated to make it easier to find and play content from your library, which now also includes collaborative playlists and podcasts. With gapless playback, you can enjoy playlists without disruption in between tracks. A Spotify home tab has been added to help you discover new content which is also customized based on your listening preferences. Spotify also syncs with other devices that are logged in, making it easier to control what is playing in the car from the Spotify mobile app.
Media Search Improvements
This one appears to be some tweaks to the user interface within the media search function.
The media search results are now re-arranged for easier viewing. Results now also display based on the media source you are actively using, highlighting and making it more convenient to find what you are looking for.

Search results when searching for the specific items via voice has also been improved to show you more what you are looking for.
Media Sources
You can now show or hide your preferred media sources in the Media Player. Go to the Audio Settings > Sources to hide the sources that you do not use. Media search results will also exclude all hidden media sources.
Voice Command Language
You can now select a voice command language different than the touchscreen langauge via Controls > Display > Voice Recognition.
Wrap-Up
That's it for this update. I'll post the next update whenever it comes through, the FSD release is definitely the big one that should be on the horizon at some point.
Looking for more Tesla articles? Check out more of our Tesla posts.
If you're looking to purchase a new Tesla vehicle or Tesla Energy product, please consider using my referral code (link to Tesla with my code): https://ts.la/kevin82163