Tesla announced on September 22nd, 2020 during their Battery Day, that the Tesla Model S Plaid version is now available to order! Although previously communicated it could be available at the end of 2020, Tesla is now targetting the end of 2021 for the Plaid version.
The Specs
| | |
| --- | --- |
| 0-60mph | Under 2.0 seconds |
| 1/4 Mile | Under 9.0 seconds |
| Horsepower | 1100+ hp |
| Drivetrain | Tri Motor All-Wheel Drive |
| Range | 520+ Miles Per Charge |
| Top Speed | 200 mph |
| Price Tag | Starting at $139,990 |
Tesla has been under promising and over delivering on some specs the last couple of years. This has been the case with the range of the Model Y and their ability to start offering auto-pilot as standard equipment. They've also had recent price breaks on the 3, S, and X. There's a handful of "plus" or less than specs listed here. It will be interesting to see where the horsepower, 0-60 and quarter mile times, as well as the range actually come in at.
Price
The Tesla Model S Plaid version has a starting price of $139,990. Currently through the Tesla website, you can still add the same options currently available for the Long Range Plus and Performance Models.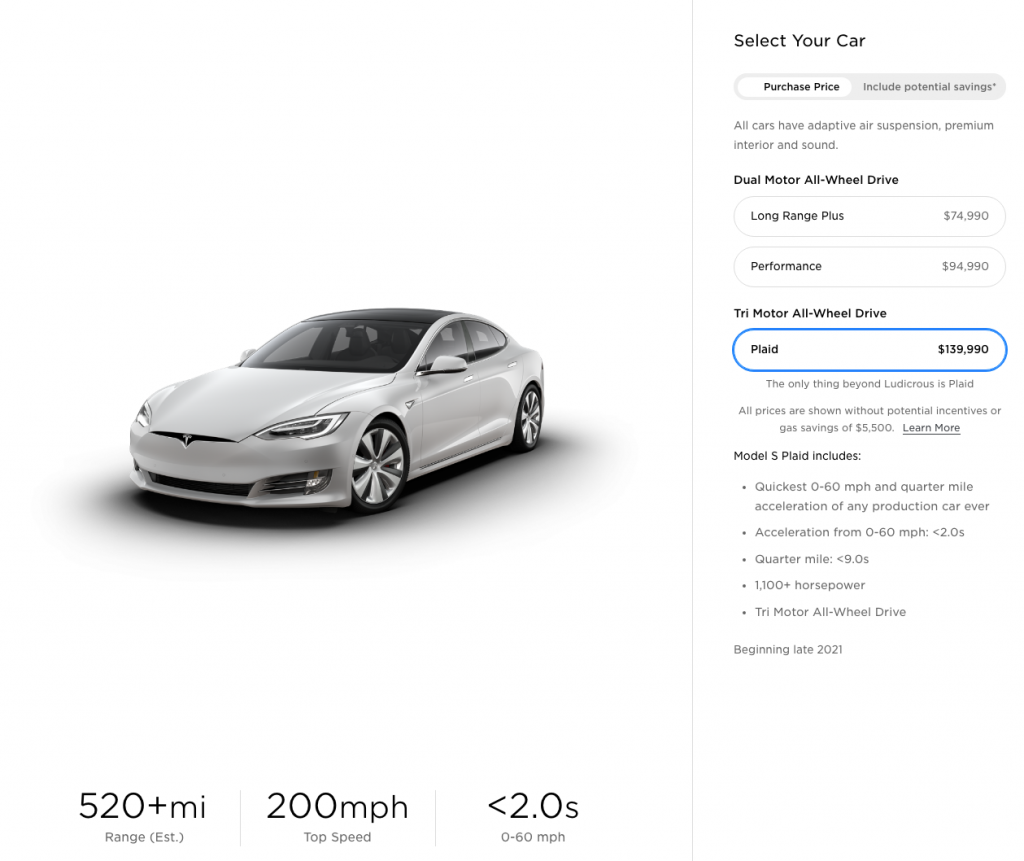 This includes a wheel upgrade, full self-driving, and premium interior options. Maxing out those options will get you up to $156,490. A lot can change between today and late 2021. More options may become available for the Plaid version.

Range and Battery Technology
With the Tesla Model S Plaid version, the vehicle will take advantage of the new battery cell technology that Tesla announced during Battery Day. It's a battery cell that appears will be almost the size of a soda can. This battery is a 4680 cell and will use some of the intellectual property of Maxwell Technologies, whom Tesla bought out in 2019.
One thing we learned from Battery Day is that the 4680 cells will no longer be incased in a battery pack. Similar to many jets using the open space inside of the wings for fuel now, the body will be structured to house all of these battery cells.
Track Time
This most recent footage from Laguna Seca that Tesla showed during Battery Day appears to be a standard Model S body. They ran the course with a time of 1 minute 30 seconds and 3/10th's of a second. Elon mentions they're confident they can trim another 3 seconds or so off this time. If they can, it would make the Plaid Model S the fastest track time of any production car, whether it's a two or four door.
On their website now, if you click on the Plaid Tri Motor All-Wheel Drive option there's no visible body style change from the Long Range Plus to the Performance, or to the Plaid versions. However, this could certainly change between now and production.
For an earlier prototype of the Model S Plaid version that was ran at that track, there appeared to be a wider body kit. It also has some air intakes (possibly for helping to cool the brakes). There's a handful of people who feel the Model S (and X) are overdue for a refresh. The Model S first came out in 2012. It has received a front bumper fascia update, slightly updated headlights and taillights, but largely has kept the same overall styling.
Sales of both the Model S and X have become a bit more stagnant over the years. Will a Plaid powertrain help push sales back up? Would an interior and exterior update or vastly improved range help? Images of a Model 3 styled dash surfaced a couple years ago. It suggested the S and X would receive a similar, more minimalistic interior. What will you get for the extra $45,000 over the Performance version? Will it be all performance or will we see other changes or additions for Plaid?
Are You Considering a Tesla Purchase?
If you're looking to purchase a new Tesla vehicle or Tesla Energy product, or even a Tesla Model S Plaid version please consider using my referral code (link to Tesla with my code): https://ts.la/kevin82163
Looking for More Articles on Tesla?
Check out our other Tesla posts here: https://fabville.com/category/automotive/electric-vehicles/tesla