Back in February, Zero Motorcycles unveiled the latest addition to it's all electric motorcycle lineup, the Zero SR/S. Speculation about the bike leading up to the unveil was that Zero might simply add on some extra fairings to their Zero SR/F, which is a street fighter style bike.
In fact, both bikes have several commonalities, however, the new SR/S has some new geometry. Despite the same electronics, the SR/S is expected to have 13% greater range. This appears to be thanks in part to improved aerodynamics, and this isn't just additional fairings. The Zero SR/S weighs in 20 pounds heavier than the SR/F, coming in at 505 lbs.
How Fast Is It?
According to Zero's website, it has a top speed of 124mph. Clearly this should be more than enough for the majority of riders out there, certainly for on the streets. If you're looking to have something fast on 2 wheels for the track, there's certainly motorcycles out there that have a higher top speed. As with electric cars, you probably won't see many options for making the Zero SR/S faster with aftermarket parts.
While they don't mention it on their website, other sources claim the Zero SR/S can go 0-60 mph somewhere in the 2.7 second range. A stock Yamaha R6 should be in the 2.8 second range for it's 0-60 mph time. A 2015 Yamaha YZF-R1000 comes in at 2.6 seconds. The fastest production bike was a 2006 Suzuki GSXR-1000 clocked in at 2.35 seconds. Yamaha and Suzuki times from Fastest Production Motorcycles by Acceleration on Wikipedia: https://en.wikipedia.org/wiki/List_of_fastest_production_motorcycles_by_acceleration
Zero SR/S: Standard vs. Premium
The Zero SR/S is available in standard or a premium model. There's no change to the performance specs, but rather than charging speed. The premium model adds an extra 11 pounds of weight, bringing it up to 516 pounds. The main difference seems to come from jumping from 3kW charging up to 6kW's, cutting your charge time in half. They also have a Power Tank option that became available in March 2020 which adds additional battery capacity to increase the range up to 200 miles per charge.
The starting price for the Standard is $19,995 USD, the premium bumps up to $21,995. In either Standard or Premium, you can add the Power Tank for an extra $2,895. However the Standard requires an additional accessory power panel which has an MSRP of $500. Their site also doesn't seem to mention how many kWh's the Power Tank adds on.
Advantages of Going Electric (with a Bike)
Similar to electric cars compared to internal combustion engine cars, the initial cost of an electric motorcycle is likely more than a gas alternative. Here's a chart from Zero's site that shows savings over time however, thanks to lower fuel costs (charging versus gas). You also have much less maintenance, similar to electric cars. The Zero SR/S is in the price range of several Ducati Motorcycles, but the comparisons really become apple and oranges. For someone looking for a low maintenance bike that can save them money over the life of ownership, the Zero could be a very viable option!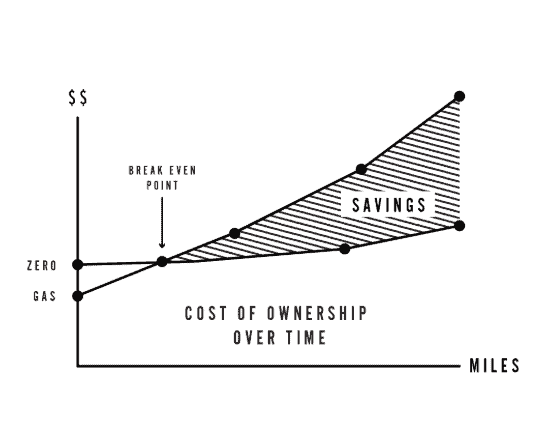 Clearly the chart above is a bit theoretical since there's no actual dollar amounts or number of miles for the X and Y axis'. It would be interesting to see some actual data.
Read more about advantages of electric bikes on Zero's website at the link below:
https://www.zeromotorcycles.com/advantages/
Check out more of our Electric Vehicle posts!