The Switch Lab is a classroom which challenges students to build road-worthy electric vehicles. It's essentially and electric vehicle school. The course is structured around learning, building, testing, and then driving the finished Switch EV. It takes students through a complete project-based learning process.
Founded in 2013, the Switch Lab practices what they teach. The core concept of the program is building their 3-wheeled vehicle from kit, and at the end of a course, the vehicle is then disassembled and used again for the next class. Students learn the various components of an EV along with the install and everything else that goes along with the build.
Switch Lab Instructor Training
For anyone interested in becoming an electric vehicle school instructor, the Switch Lab currently offers two different programs. The first is a 4 day workshop for lead acid batteries. The second workshop spans 4.5 days and covers advanced topics for lithium ion and goes into controller programming.
High Schools and Community Colleges
The majority of their training is done in their Sebastopol, California shop. However, it doesn't end there. They have an instructor training program where trainees have gone on to teach curriculum in high schools and colleges. It's a modern day auto-shop. You can check out their school locations here to see if one of their customers have offered an electric vehicle school near you.
While there are other electric vehicle workshops out there, I find it intriguing that the Lab Switch has a fairly wide spread. Looking at their school locations, there's a good amount of schools using their program across the US. Currently only one international school in Thailand, but that could certainly change over time.
The only one in my home state of Washington is at Friday Harbor which is located in the San Juan Islands, although it's at a high school. When we bought our used Nissan LEAF back in 2015, I remember the sales person ask me if I knew where the most EV's were registered in Washington. At the time, it was in the San Juan Islands. It makes sense if you're on a fairly small island, you wouldn't need a lot of range. A vehicle with even only 84 miles (without battery degradation) such as the Gen 1 Nissan LEAF should be more than enough.
If one pops up at a local community college, I'd likely look into attending the course.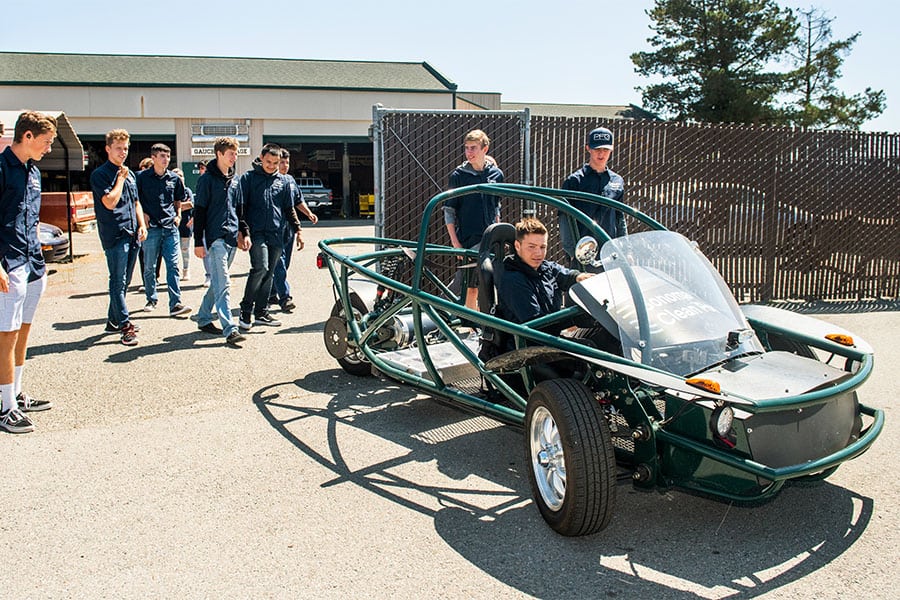 The Kits
Currently on their website they show four kit options, ranging in price from $27,994 up to $39,994 at the higher end. It also shows that you can contact them for custom quotes. The lower end has a 72 volt lead acid battery system, where as the next three kits have a 96 volt lithium ion. On the Lithium Ion kits, prices of the kits vary based on the motor:
DC Drive (same as the Lead Acid base model)
ADC Drive
Hyper 9/Drive
A couple additional options are also offered. Instead of a bare metal frame for the "glider", you can have it powder coated. You can also opt for a 3rd seat or bench.
Check out their workshop calendar for events in other locations as well. For anyone looking to learn more about electric vehicles and how to build them, it's worth a look to see if what they offer is the right fit for your needs.
More Electric Vehicle Posts on Fabville!
Check out more of our posts on electric vehicles: https://fabville.com/category/automotive/electric-vehicles