Fluctuation in Pricing
The Tesla Model X is a vehicle a friend of mine introduced me to back around 2014 when it was only available for pre-order.  Back then, you could put a pre-order in on the vehicle and it would have an estimated starting price of $49,999.  By the time it hit production the starting price actually came in at $99,999.
With some changes to options and a few price reduction, the price dropped down to $79K (starting out), and with the premium package now becoming standard is currently $82,850 before any federal or state tax credits or incentives.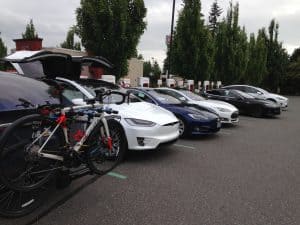 Financing a Tesla
Most banks give a 30-day quote.  Our Tesla Model X production was set for an estimated 6 weeks, this certainly isn't ideal in securing a loan.  Plan ahead for this.  In some cases you may need to have your credit ran twice.  I opted not to until the vehicle was ready, which quite honestly was a bit nerve racking not knowing for sure if we would be approved for a loan.  Previously, our largest car loan was less than half of the purchase price.  If we weren't, this would have resulted in us forfeiting our deposit.  More on the deposit in a bit.
Federal Electric Vehicle Tax Credit
A big factor in us deciding now was the time to go through with our Tesla purchase was the expiring US federal tax credit.  Once any car manufacturer delivers 200,000 electric vehicles within the US, the $7500 federal tax credit will be cut in half to $3750. Tesla was expected to deliver their 200,000th vehicle in Q3 of 2018, and they did in July.  However, it now appears anyone who takes delivery of a Tesla by December 31st, 2018 will still be eligible for the full $7500 tax credit.  For more information on this federal tax credit, check out this link: https://www.energy.gov/eere/electricvehicles/electric-vehicles-tax-credits-and-other-incentives
Tesla Free Lifetime Supercharging
Another perk that was expected to soon run out was the free, lifetime supercharger referral.  Tesla has a referral program that has different promotions, and the long running free lifetime supercharging was expected to end, which it did on September 18th.
Test Drive and Order
We scheduled a test drive on May 5th, 2018 and upon return from the drive we went back into the showroom and decided to put our $2500 down payment to place our order.  The down payment amount has varied, and seems to be going up.  Currently on Tesla's website it shows that a $10,000 down payment is required.
Production Update
On May 9th I received an e-mail that the interior of our X would be upgraded.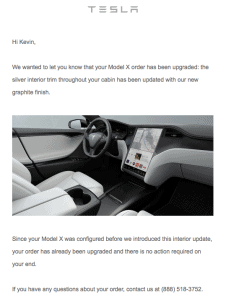 Loan, Taxes, and Delivery!
Initially, we were told by our delivery manager that our vehicle was expected to be delivered on June 20th.  We started working on financing and actually found a lower interest rate going outside of Tesla Financing, so it might be worth shopping around – but we were approved!  One thing we were not expecting is that we had to pay the taxes on the vehicle at delivery, we could not have them part of the loan – I've never experienced this before and I'm still not sure why, but it is certainly something to inquire about so you know what to expect.
Fast forward, delivery was pushed out a week, but the delivery experience was great.  Our delivery was scheduled at the Tesla Service Center in Bellevue, WA.  After picking up our Tesla, we immediately drove to Carmax to sell our 2015 GMC Acadia after not having any luck selling it through online sites over the last 2-3 weeks.
And now, the Tesla Model X ownership journey has begun.  If there's any questions you have regarding our experience thus far that you'd like us to try and answer, feel free to leave them in the comments box below!