GMC had their official reveal of the Hummer EV on 10/20/2020. It was initially planned for April 2020, but likely delayed because of the pandemic. We now have details on pricing additional specifications. The Hummer EV is now open for reservations as well.
With four trim levels, the Hummer EV starts at $79,9995 at the lower end, while it starts at $112,595 for the top trim package. Each of the next years will see another trim package slated for production. The limited quantity, top end trim package will roll off the assembly line in the Fall of 2021. It doesn't appear as though we'll see the base trim package until 2024.
Hummer EV Features
General Motors has worked on some unique features for the Hummer EV. From the "Crabwalk" to the Infinity Roof. Let's take a look at some of these features in more detail below.
Four Wheel Steering/Crabwalk
The crabwalk is an interesting feature and in certain off-roading situations could come in quite handy. It takes advantage of the Hummer EV's all wheel steering and allows you to drive the vehicle diagonally. It simultaneously angles from and rear wheels to create the diagonal driving feature.
Rivian may their tank turn, but the crabwalk may be more useful (and less damaging) to the terrain. Remember to tread lightly!
Ultravision Cameras
The Ultravision Cameras allow various on-screen cameras to be displayed on a screen at the dash. Not only can this be useful on-road, but certainly off-road in tight areas and trying to navigate obstacles. The underbody cameras would be extremely useful to check for clearance on rocks, logs, and other terrain you're trying to drive over.
Infinity Roof with Modular Sky Panels
The Infitity Roof can be removed and stored in the frunk. If it starts to rain, or maybe you're kicking up too much dust off-road, it's good to know you can have them stored away. I'd be curious how fragile they are, if there's a chance of breaking them while they're stored in the frunk and going through some higher speed, aggressive off-road terrain.
Rear Drop Glass
GMC is calling the motorized rear window that can go down as Rear Drop Glass. This isn't a new innovation by any means, but can further enhance the open air experience with the Infinity Roof.
Customizable Drive Modes
While they don't seem to go into too many details yet, it appears there will be a highway mode, towing mode, off-road settings, to name a few.
Extract Mode
GMC calls it Extract Mode. It's essentially air suspension that lift the chassis nearly 6″. With the added ground clearance, it provides greater off-road ability.
Specially Engineered Tires
35″ Goodyear Wrangler's are specially designed to provide optimum on and off-road performance. GMC mentions the Hummer EV will be 37″ tire capable. This likely means it can accommodate larger tires without any lift. Otherwise, there would likely be an electronic setting to ensure the truck maintains a higher than stock height to avoid rubbing.
Body Armor Skid Plates
The Hummer EV will have a large skid plate cover the undercarriage as well as rock sliders.
Next Gen Super Cruise
Hands free driving. Auto lane changes. This is essentially GM's version of Tesla Auto Pilot. The steering wheel appears to be the same design from GM's Cadillac line, where it has a camera and a green light to alert the driver if they're not watching the road frequently enough.
Ultium Batteries
Dubbed as Ultium batteries, this is GM's proprietary technology with LG Chem who they have partnered with. It is a Lithium-Ion battery that will be manufactured in Ohio.
Hummer EV Charging
One of the more noteworthy announcements regarding charging is the ability to charge at 800 volts which would push out 350 kW's. This equates to charging about 100 miles of range in just 10 minutes.
GMC has a link on the Hummer EV page to "Locate Charging Stations", however, it merely links to a page on https://afdc.energy.gov/ that can be used by all EV owners, including Tesla:
Based on this, it appears fairly obvious that GM will expect owners to rely heavily on 3rd party charging options. I haven't seen any news of how expansive they except their own network to possibly be.
Hummer EV Trim Levels and Pricing
The Hummer EV is expected to have 4 trim levels. Similar to what Tesla has done with it's new vehicles, it will have the higher end vehicles available first. It's reported (or at least speculated) that the top end EV Edition 1 sold out in about an hour and that there may be a very small production quantity that was allocated for this model.
Here's a further break down of the specs: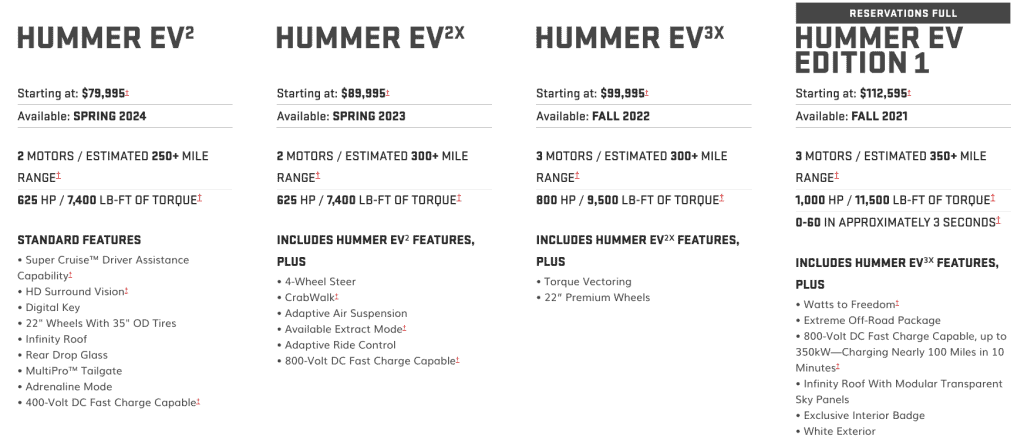 It's interesting to see the naming convention. From the EV2, EV2X, EV3X, and the EV Edition 1. It seems they may have intentional avoided EV1 by adding "Edition" into the naming. For those not familiar with it, GM produced a vehicle called the EV1 from 1996-1999. These vehicles were leased, never sold out right. GM infamously took these vehicles back and destroyed them despite protests from some owners. The EV1 was a main topic in the documentary Who Killed the Electric Vehicle which was produced in 2006.
Reservation Steps

Reservation Cost
Just like the Cybertruck, the Hummer EV just requires a deposit amount of $100 (USD). Also just like Tesla, this is consistent across on trim levels.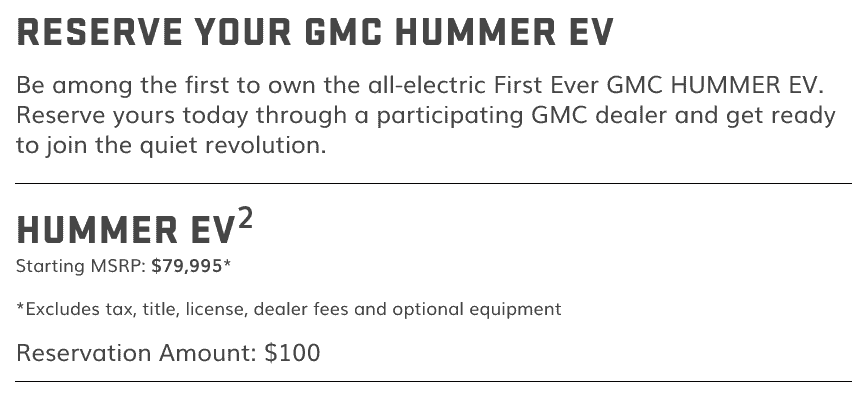 Off-Road Specs
Interior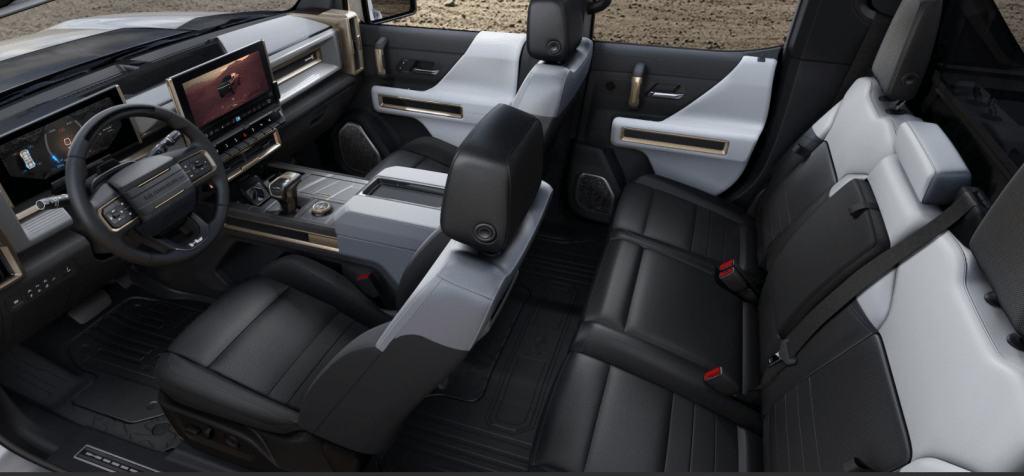 While GMC describes the Hummer EV interior as "luxury", the overall design feels a bit boxy to me. Perhaps they're trying to give a modern spin on previous Hummers, but from the center console to the door trim, and everything in between, there's a definite rectangular vibe. I would have liked to see a more integrated feel with the screens as well. Despite those critiques, it has a fairly rugged look to match the off-road capabilities of the vehicle with some well thought out storage areas. The overall interior appears quite spacious.
Hummer EV Availability
I found this on their FAQ page, it appears the Hummer EV will only be offered in the 48 continental US and Hawaii at first. No mention of international availability at this time. Curious why the Alaskan exclusion too. When might the Hummer EV make it into Canada? If they're being produced in Detroit, it wouldn't be that long of transportation to cross the border.

What About the Hummer EV SUV?
Anyone wanting the Hummer SUV rather than the truck will have to wait. On their FAQ page there's no firms dates for the reveal or when they might end up consumers driveways. There's a good chance GM wants to test the waters and see what the demand is for the truck first.

Cybertruck vs. Hummer EV
This is going to be a natural comparison and debates will likely go on for years to come. These are two of the most talked to about electric pickup trucks of late. Other companies like Rivian, Atlis, and Bollinger to name a few have to actually have vehicles roll out of the assembly line and into the hands of customers. GM has clearly done this, as has Tesla. If these other companies can get their trucks into production, they'll likely be quickly catapulted into the discussion as well.
Hummer EV Unveil Video
Here's the official unveil video GMC posted:
My Thoughts
I've been a fan of the Hummer since the 90's. I remember driving down to our local GM dealer with a friend of mine when we heard they got a civilian version in stock. I was especially a fan of the slantback versions. Seeing a string of the military version going down the highway was always impressive to see.
There's definitely some irony and I'm sure GM had a pointed decision in this, but taking a notoriously terribly fuel inefficient vehicle and giving the brand a new life as an EV is a 180 degree turn. What better way to re-introduce a previously disbanded brand.
With the cheapest Hummer EV costing more than the top of the line Cybertruck, and an unknown overall commitment to producing high volumes by GM, it will be interesting to see how sales compare. GM has made "compliance vehicles" at a reported loss. However, the price tag of the Hummer EV should position them for profits on each sale. For me, I'll stick with my Cybertruck reservation. Some may not like the futuristic, 80's inspired design of the Cybertruck, but I'm looking more into the specs and capability. 500 miles of range with the tri-motor version is quite impressive in my opinion. I also like the idea of being able to take something off-road and not worry about paint that could get scratched.
Whether or not someone personally likes the aesthetics of either, I think they're both solid designs. Different and unique features between each of them should drive competition and innovations in the truck EV segment for many years to come.
More on the Hummer EV
To learn more about the Hummer EV truck, you checkout GMC's official Hummer page. You can also check out our other Hummer EV Posts here on Fabville.