The Screen
In the past, we've setup chairs for our screen projector, but to take advantage of earlier sunsets in color weather, the next evolution was for a home drive-in theater, or should we call it a driveway theater? This is a screen I bought many years ago off of eBay. At our previous house it was used in our garage that was converted to a home theater room. It's a 150″ motorized projector screen. Simply plug it in and you have 3 basic button controls for opening, retracting, and stopping how much screen is rolled out.
At our current house, we've primarily used it outdoors in our driveway. Our house was designed with an overhang above the garage. I mounted a pair of d-ring brackets in this area to hang the screen. The screen has the built-in rings and I added a pair of carabiner clips for quick removal.
External Tower Speaker
Previously, I've used a tower speaker for audio. For the most part, we've only used this during the warmer months. It does tend to get a bit colder at night even during the summers in Western Washington, so the kids are prepared with blankets and a warmer sweatshirt or jacket as well.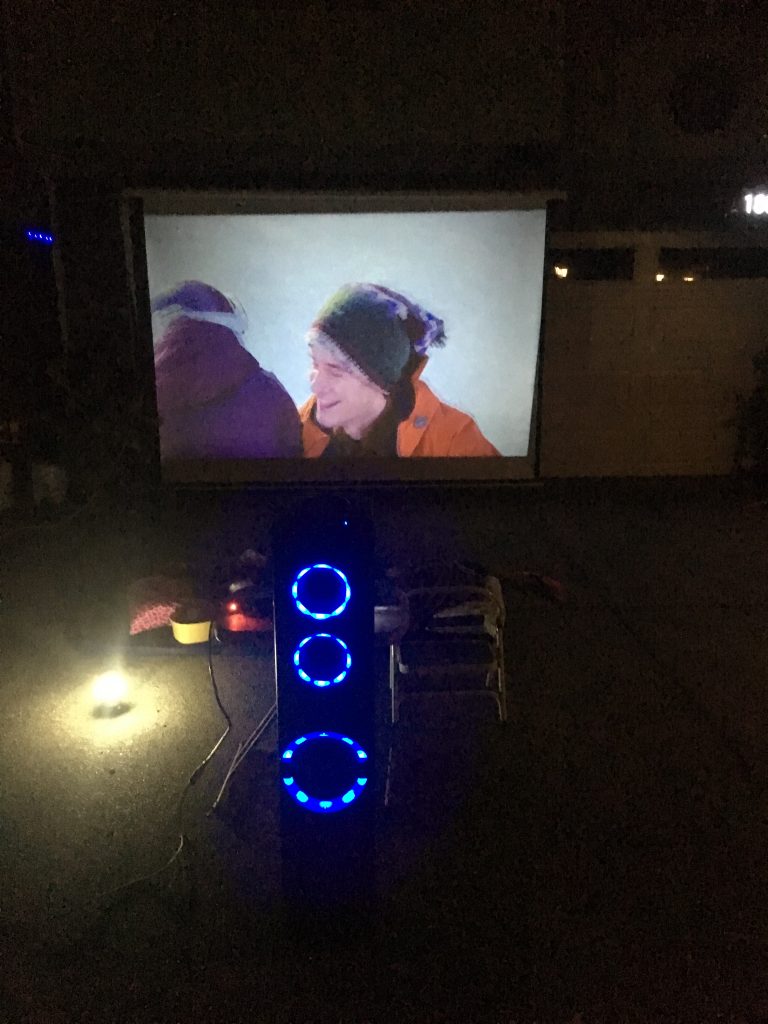 The first night we used it this year was no different. Rather than pulling out the blankets I decided to let the kids finish the move from the car so they could stay warm. I opened the front windows partially so they could still hear the sound, but I started thinking. What I could do to use the speakers in the car? Just like an old-school drive-in theater that would typically use FM transmission. I let the kids finish watching the movie that night, but I was ready to research options how to get the sound straight into the car audio…
After talking to a friend of mine about this, I came to realize that the Amazon FireStick is BlueTooth compatible! Cut me some slack, I haven't used it much and had just pulled it out of a drawer. With our 2012 Nissan LEAF, I was able to quickly and easy pair it to the FireStick. Done! Our Tesla wasn't as cooperative…
In-Car Audio: FireStick and Tesla BlueTooth
We have a much better factory audio system in our Tesla, compared to our LEAF. Therefore, I wanted to pair the Amazon FireStick to the Tesla. This time however, it was a no-go. Oddly enough, the Tesla was detecting a Roku device, but was not able to see our FireStick, it must have been one of our TCL televisions with Roku built-in that it was detecting.. More brainstorming and troubleshooting discussion with my friend, we determined it must be a Tesla BlueTooth driver incompatibility. If anyone has a better answer, please let us know! This is merely our theory.
FireStick vs. Roku
I have an older Roku device, but after some quick research it does not appear any support BlueTooth. The next best thing seemed to be something they call "Private Listening", although it was only available on newer devices. I'm still not sure why the Tesla discovered a BlueTooth device, I'll have to dig into that one more later.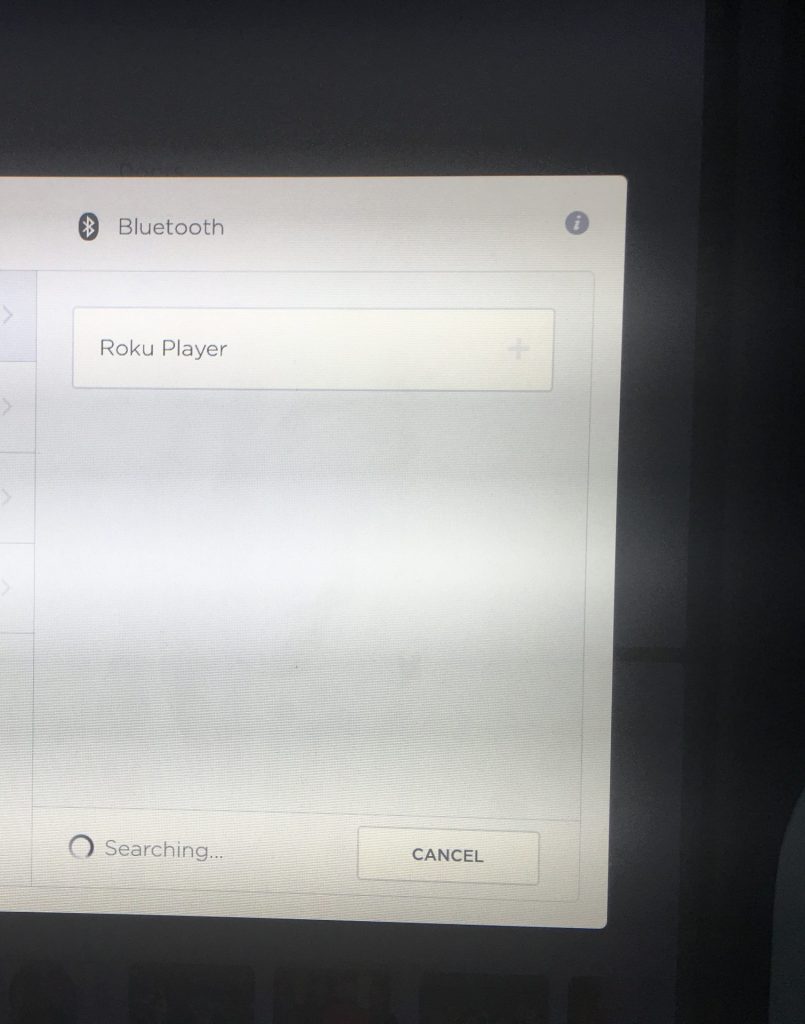 FM Transmission
So now, it was back to the FM Transmission idea. I've seen a few homeowners with Christmas light shows that have audio broadcasted through an FM station. I was never sure how elaborate of a setup they did for these, but they seemed fairly short range. I also wasn't sure about the cost. After a search on Amazon, I found varying products. My friend sent me a link to one in particular that was about $15 and merely plugged into a 3.5mm audio jack.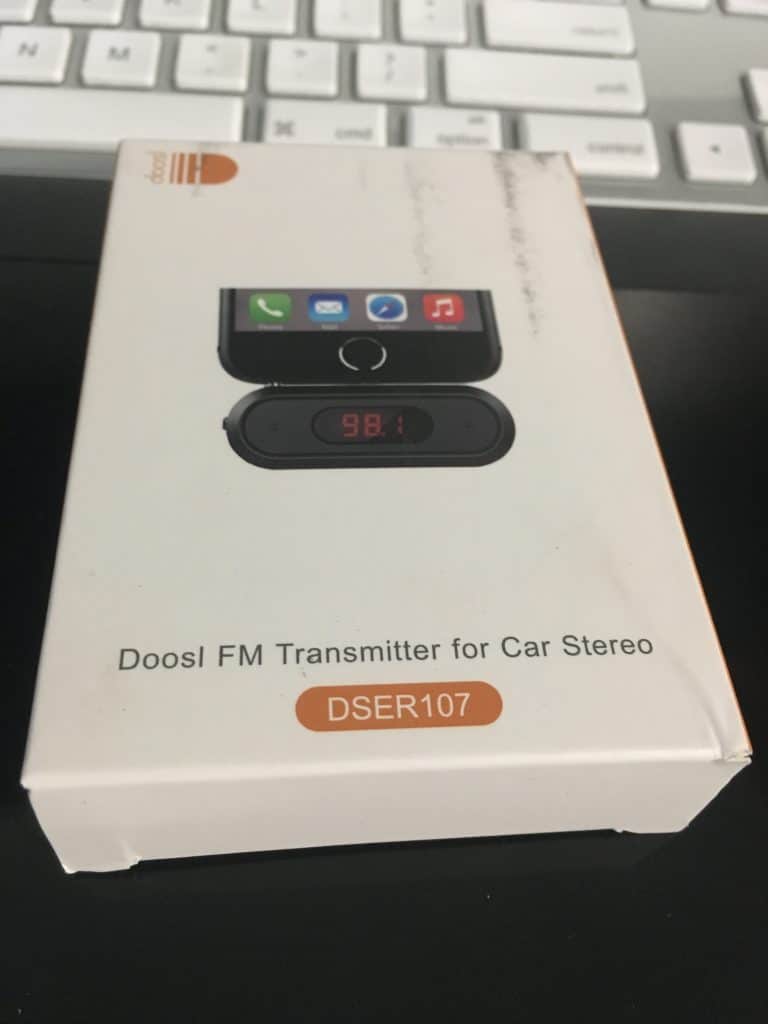 While I initially used BlueTooth to connect the speaker tower to the projector, I went back and did a quick test with a 3.5mm audio cable and everything worked. I figured everything should be fine with FM transmitter. Link to Amazon for the FM Transmitter: https://www.amazon.com/gp/product/B018QN4INM/ref=ppx_yo_dt_b_asin_title_o00_s00?ie=UTF8&psc=1
FM Transmission "Temperament"
After less than impressive results, I did some troubleshooting and ordered and "extension" cable. It appears there was interference from the projector or possibly the streaming devices. Simply moving it further away made a HUGE difference.
Multi-Vehicle FM Transmission
If decent FM Transmission quality is available, this could make it easier for multiple vehicles. Visiting friends and families for multiple could quickly and easily tune in to a radio station. This would be just like most regular drive-in theaters.
Thanks Robert for helping me work through and troubleshoot all of this!
Update: I ordered a different style FM Transmitter, more to come after I get a chance to test this one out.
Newer Roku
So I broke down and bought a new Roku device. The plan was to connect my phone through Bluetooth to the Tesla and get audio through the Private Listening mode, sure enough, it works! At least for the initial test. This connection is dependent on both the Roku Stick and your phone on the same Wi-Fi connection. I'm apparently not getting strong enough signal in the driveway. Plan C, I've ordered a different style FM Transmitter. More to come on this, but the shipping time is a ways out.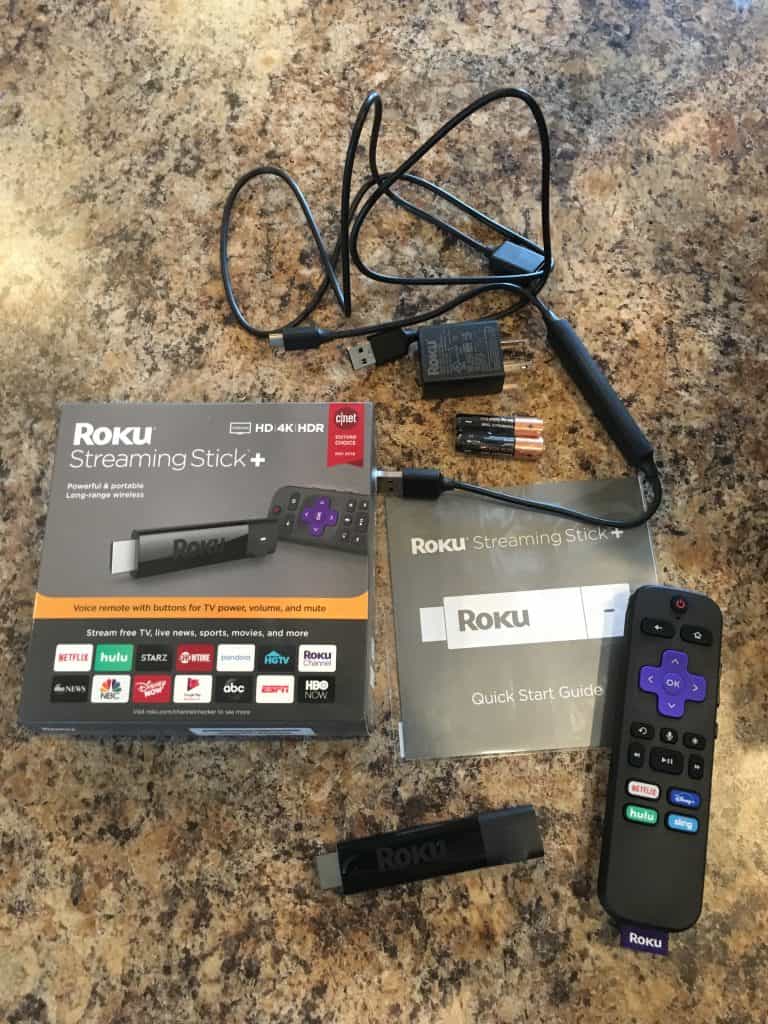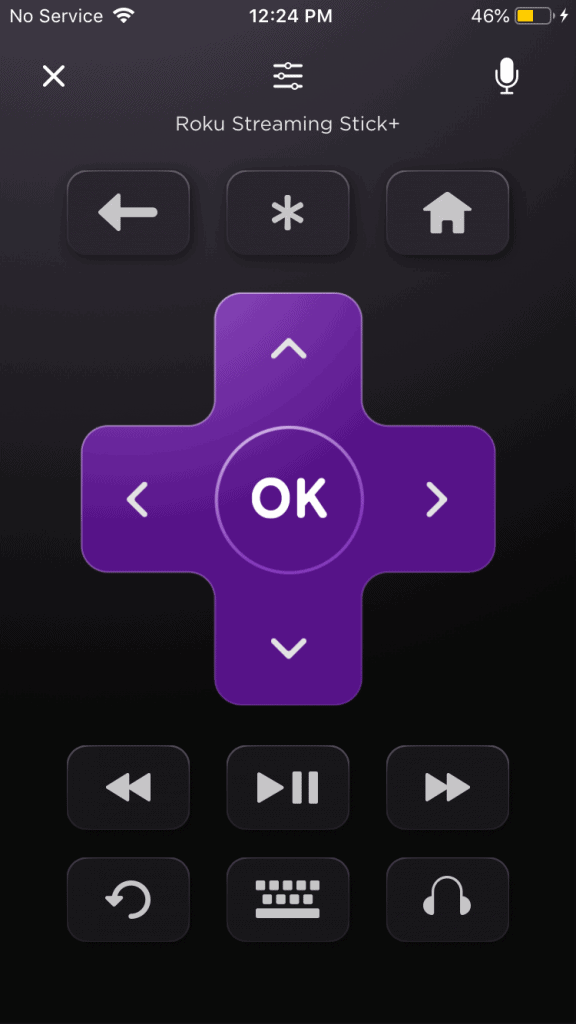 How Roku Private Listening Works (and a Problem)
Roku's Private Listening Mode requires the Roku device and your smartphone to be on the same Wi-Fi connection. While early testing worked for me in the car, the other night the Wi-Fi signal to my phone seems sporadic at best. We don't seem to have strong enough Wi-Fi signal in our driveway, so I've ordered a different style FM Transmitter. More to come once this arrives.
Tesla Camping Mode
To use just the HVAC (if needed), audio, but not other accessories on the vehicle, I turned on the Camp Mode setting. I'll definitely have to keep an eye on the Nissan LEAF's battery levels, I believe it has a tendency to turn off the radio after so many minutes too. I'll compare the two vehicles how they handle various movie lengths as we look to use our home drive-in theater more over the next several weeks.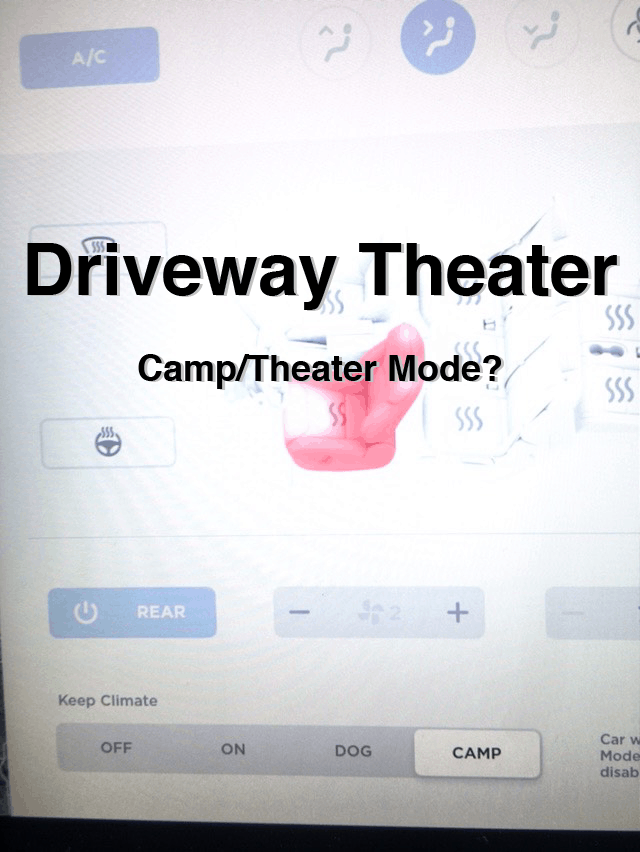 We're adding a "party & camper mode" soon to S/3/X, so your car can maintain air flow, temp, selective lights, music & power devices for 48 hours or more while parked. Big batteries rock …

— Elon Musk (@elonmusk) July 31, 2018
From Tesla's Release Notes Regarding Camp Mode:
Your car can now maintain airflow, temperature, interior lighting, as well as play music, and power devices when Camp Mode is enabled. To enable Camp Mode, tap the fan icon at the bottom of the touchscreen and set 'Keep Climate On' to 'CAMP' while your car is in 'PARK.'
Summary
So that wraps up our home drive-in theatre (driveway theater) setup. If it's warm enough, I'm sure we'll continue to use the speaker tower. When it gets colder, we'll use one of the cars. The LEAF works fine for Bluetooth from the Firestick, I'll have to use my phone and the Roku Streaming Stick+ for the Tesla. Popcorn might be allowed on a trial basis inside the LEAF, but we'll never get to that point with the Model X.
Comment below if you have experience with your own home drive-in theater. Different components or other setup techniques. I've noticed now there are some projectors with built-in Bluetooth and DVD players (if anyone wants to play DVD's without another unit). Since we already have 2 mini projectors, I'll stick with the ones I have for now.
Future Updates
These are few items I'm considering doing in the future:
Hardwire the projector screen
Built an enclosure for the screen to keep it protected from the elements (and not have to store it inside)
Build a stand for the projector (currently using a small, foldable table)
I'll add some new photos to this article next time we setup the projector.