When it comes to trailers, versatility can make all difference. Whether you're hauling camping gear, bikes, other equipment, or go camping, the right trailer can make the trip smoother and more enjoyable. And when it comes to versatility and convenience, few trailers can match the SylvanSport Go. We tend to get quite a few reactions from our trailer, not just because of it's unique design, but also because of how we use it.
The SylvanSport Go is a lightweight, compact trailer that can be towed by most vehicles. It weighs only 840 pounds, which makes it easy to maneuver. The trailer's unique design allows it to be used for a wide range of activities, from camping and kayaking to hauling appliances and furniture.
What Can You Haul with a SylvanSport Go? How About a 20 Ton Log Splitter?!?!
With it's tilt function, the SylvanSport Go is an excellent choice for hauling dirt bikes, ATV's, or riding lawnmowers. I've used ours to haul a riding lawnmower and now I can add an old 20-ton log splitter to the list.
My neighbor who recently moved across the state was given an older log splitter by his dad who had upgraded. When my neighbor moved, he offered to give the log splitter to me. We don't have much use for the splitter at our house, but we do use a wood-burning stove at our cabin fairly often. So once the weather through the mountain pass improved, I wanted to get it moved. That same neighbor is still borrowing my enclosed cargo trailer, so I decided I'd use the SylvanSport Go.
While the log splitter is designed to be towed behind a vehicle, I didn't trust towing it on the highway for the distance I had to go. I had to replace one tire on the log splitter because it had a split, and the remaining tire didn't look much better, although the bead at least was continuing to hold air.
Loading the Log Splitter onto the SylvanSport Go
I was able to load the splitter onto the trailer myself, but it did take some time – and probably wasn't the best of ideas. I used the tilt function of the trailer and pushed the splitter up to it backwards. With the use of tie down straps, I slowly was able to get the splitter winched up onto the trailer while also using wheel chocks along the way. Once enough of the weight was near the axle of the SylvanSport Go, I was able to slowly tilt the trailer back to it's normal position.
Scrap Wood Shipping Crate for the Log Splitter
With the log splitter being a fairly large footprint in the SylvanSport Go, I didn't want to take any chances of having tie down straps loosen up while I was driving. So, I opted to build a make shift shipping crate (or containment) out of scrap wood to make sure it wouldn't move at all while I was hauling it over 100 miles to our cabin. Here's some photos of my "shipping crate". Various pieces were wedged into the structure of the trailer to prevent it from moving.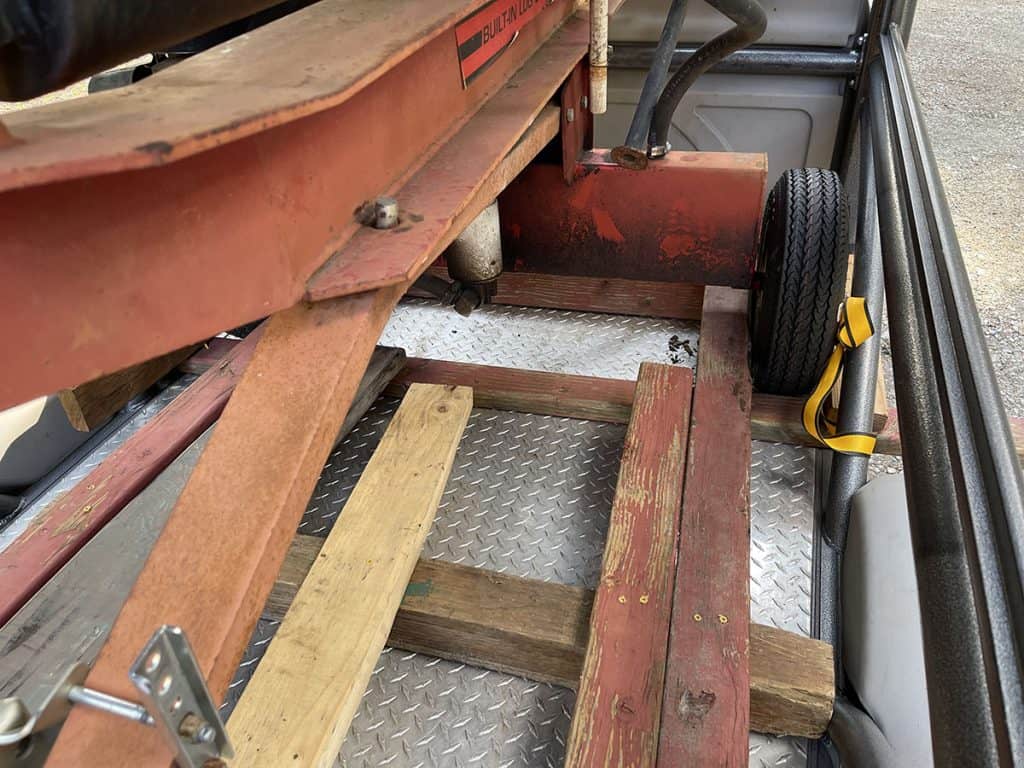 Summary
One of the things that makes the SylvanSport Go trailer so versatile is its ability to be customized for specific hauling needs. The trailer can be configured with a range of accessories, including bike racks, cargo boxes. You can also remove the upper section that stores the tent if you need to hauler taller items such as a refrigerator. Be sure to check out my full review of the SylvanSport Go.