Here's a Rivian Update for August 2020. In this video they show what they refer to as their progress report. It's a guided tour of their Operations Facility in Normal, Illinois…
If you're not already familiar with Rivian, they're an all-electric "adventure vehicle" manufacturer. Rivian is expected to start producing their first vehicles, likely in 2021. Originally slated for late 2020, but thanks in part to the pandemic, their dates have pushed.
Their lineup currently includes a truck as well as an SUV that share the same "Skateboard" platform. The R1T is their pickup truck, and the R1S is the SUV. They have also designed an electric cargo van, although I have not found verification if the van has it's own skateboard platform.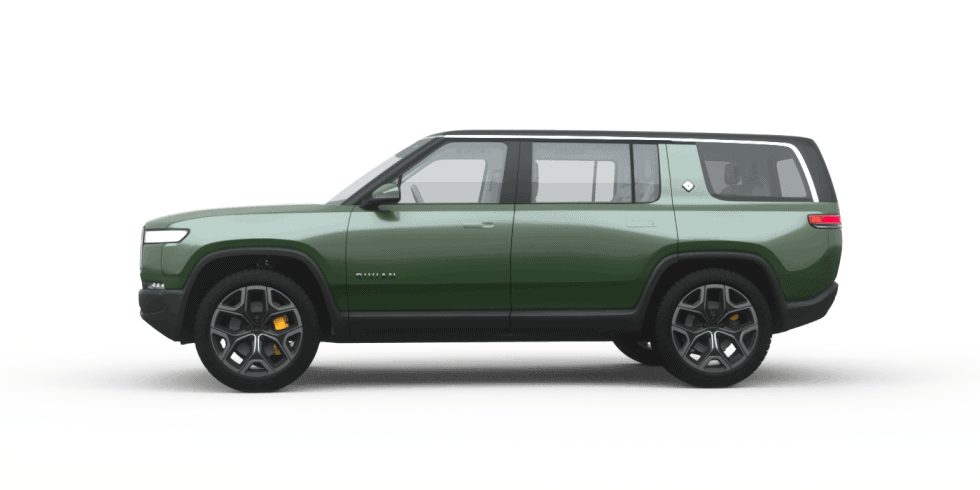 The Factory
Their CEO, RJ Scaringe gives a guided tour of their production facility located in Normal, Illinois. Normal is approximately a 2 hour drive from Chicago. This plant location is home to their manufacturing operations.
They show batteries and drivetrains being assembled to the subframe. Some of the job roles they have at this location are:
Quality
Manufacturing Ops
Vehicle Engineers
Manufacturing Engineers
Their robotic arms are color matched in the same blue that is one of the color options on the truck. Approximately 500 robotic arms are part of the plan for this particular facility.
Reusable Dunage
I found this interesting, many of their parts will come into the factor with a reusable dunage. What is dunage you might ask? Dunage is typically packing material that protects products during shipping. Examples include bubble wrap, corrugate, or, in the case of Rivian, plastic containers.
They will re-use these containers. They ship them back out for new parts to be sent back in. He mentions these are made from ocean based plastics. A vacuum-like device is supposed to be used to suck up the plastic from the ocean. Could this involve taking plastic from the infamous plastic island in the Pacific Ocean? Apparently the Rivian packing and logistic team are behind this and not a third party vendor. Very cool from the sustainability standpoint!
Wheels and Tires
RJ checks out where wheels and tires are sitting and ready to go. 20″ all terrains and 21″ all season tires are apart of their inventory. A 275/65R20 tire is listed for their max ground clearance on the specs page for both the R1S and R1T. This seems to imply the all terrain tires may be the standard and whereas the all seasons are an optional upgrade.
Rivian Headlights
While looking at a headlight, Scaringe mentions how the headlights are one of his favorite parts of the design. A friend of mine said there was no chance this design would make it into production. Things are different in the startup space. Smaller companies trying to get their first vehicles off the assembly line likely don't have deep budgets. This can be time and money based. A budget to re-design things involves employee salary too and the longer something is in design, the longer it will take to see sales.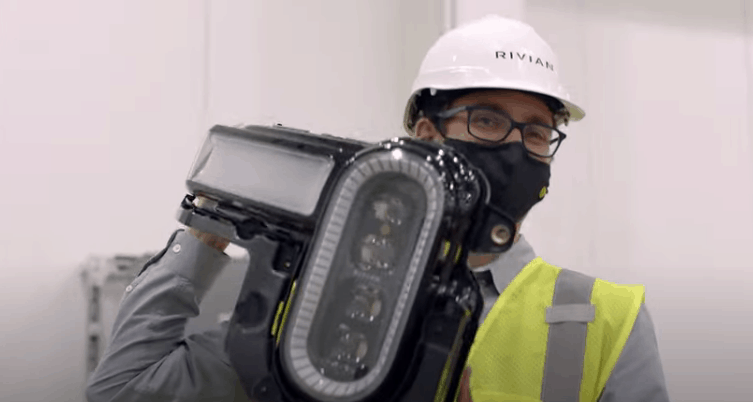 Larger automotive manufacturers on the other hand, tend to consistently operate with a much different approach. Also unlike traditional automotive manufacturers, they don't unveil an over-the-top concept and drastically make the vehicle much less visually appealing if they decide to go into production with it.
A lot of this startup electric automotive manufacturers are doing things differently. Whether or not many of them can survive, remains to be seen. It's certainly not easy starting a new company, let alone one in automotive. There's quite an overhead cost.
Preorders
Rivian is still accepting Preorders through their website, for more information on their vehicles check out Rivian.com.
Don't Miss Another Rivian Update, Checkout Our Other Articles!
Check out more of our articles on Rivian:
https://fabville.com/category/automotive/electric-vehicles/rivian