Elon Musk had tweeted back in August about Atari games coming as "Easter Eggs" in the Tesla v9.0 update. The over-the-air update started rolling out on October 5th, our vehicle was queued up on October 13th. The games that are part of this update are Asteroids, Centipede, Lunar Lander, and Missile Command.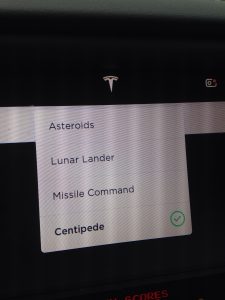 Initial Atari games released on Tesla software update v9.0
Some of best classic @Atari games coming as Easter eggs in Tesla V9.0 release in about 4 weeks. Thanks @Atari!

— Elon Musk (@elonmusk) August 1, 2018
Elon also mentioned the possibility of Pole Position which would be controlled through the Tesla steering wheel, it didn't make it into the initial v9 release, but perhaps in an upcoming minor version update.
Hoping to include last three in this release, with pole position linked to actual car steering wheel (while stationary tbc haha)

— Elon Musk (@elonmusk) August 1, 2018
More to follow including game play footage.
Additional Games on the Horizon?
This is likely a sign of things to come. More games over time, as mentioned in a Tweet above Pole Position is expected – with control through the Tesla steering wheel!
Tesla App Store?
At some point will they also offer an app store? The Tesla computer could get bogged down with a lot of extra files. Will owners be able to purchase premium content?
More Tesla Content on Fabville!
Be sure to check out more of our Tesla content!