Keeping your Tesla clean will not only make your car look nice, but it can also improve the lifetime of the paint and help prevent scratches. But what are the best cleaning products and methods for cleaning your Tesla? And what are the best ways to clean the exterior and interior of your Tesla?
There are several great products for cleaning your Tesla. Many can be purchased at a local automotive shop or through online merchants. Knowing how to use the cleaning products correctly will help you make your Tesla shine and stay shiny for years to come, so keep reading to learn more!
The Best Exterior Car Cleaning Products for Your Tesla
In your Tesla owner's manual, you should be able to find where it says to use mild automotive glass cleaner and mild automotive soap to clean the exterior. The manual also recommends using a soft cloth for washing and a chamois cloth for drying the car.
If you would like to keep your Tesla sparkly and shiny, you probably want to know all the details and make use of the best cleaning products.
Chemical Guys Mr. Pink Super Suds Car Wash Soap and Shampoo
Car shampoo is a type of soap that is used to clean the exterior of your Tesla. Utilize the Chemical Guys car shampoo. They are experts on the chemistry needed to protect and shine your Tesla! Their shampoo is also pretty simple to set up. Follow these steps, and you will have no problems:
Mix the car shampoo to a specific ratio with clean water in a bucket
Use the shampoo/water mixture with a washcloth to wipe down and clean your Tesla
Consider using their two-bucket method
The two-bucket method is a great idea when using car shampoo. It is a foolproof way to make sure you are not rubbing dirt into your Tesla's paint and scratching it.
Chemical Guys Two-Bucket Wash System
Using a Chemical Guy's two-bucket wash system will help ensure that you are cleaning your Tesla correctly. They make the best two-bucket system on the market and even include wash mitts and wash clothes.
The two-bucket system you choose should include a grit filter that will filter out certain things to prevent them from coming into contact with and scratching the Tesla. This method protects your Tesla from things such as:
The first bucket is the detailing bucket and holds the car shampoo that is mixed with clean water. This bucket is used to apply the shampoo/water mixture to your Tesla with a washcloth. The second bucket holds plain, warm water and is used to rinse off all the dirt that is wiped off with the first bucket.
The grit filter traps all the dirt and grime in the bottom of the bucket, preventing it from being wiped back onto the Tesla. Using the two-bucket system is only one great option for cleaning your Tesla. Many Tesla owners use the two-bucket system with additional cleaning products to get their Tesla's super clean.
Sun Joe Pressure Washer
The first step to cleaning your Tesla should be getting it wet. The water will help to loosen up any dried dirt or grime that has built up on the paint and wheels.
To make things easier, you should use the Sun Joe pressure washer to spray down your Tesla with water. The Sun Joe pressure washer is a 1.8 Gallon, 14.5 Amp electric unit that will pair nicely with your electric Tesla vehicle!
The Sun Joe pressure washers also have a receptacle that you can load car shampoo/soap into for easier application too! Be careful using a pressure washer to spray your Tesla. Do not stand or hold the nozzle close to the car:
It can damage your paint if you hold it too close
Stand at least 3-4 feet away
If you do not have a water softener, it is recommended to use distilled water or a water filter – especially for the final rinse. Hard water (water containing a high amount of minerals) will leave ugly marks on your Tesla when it dries.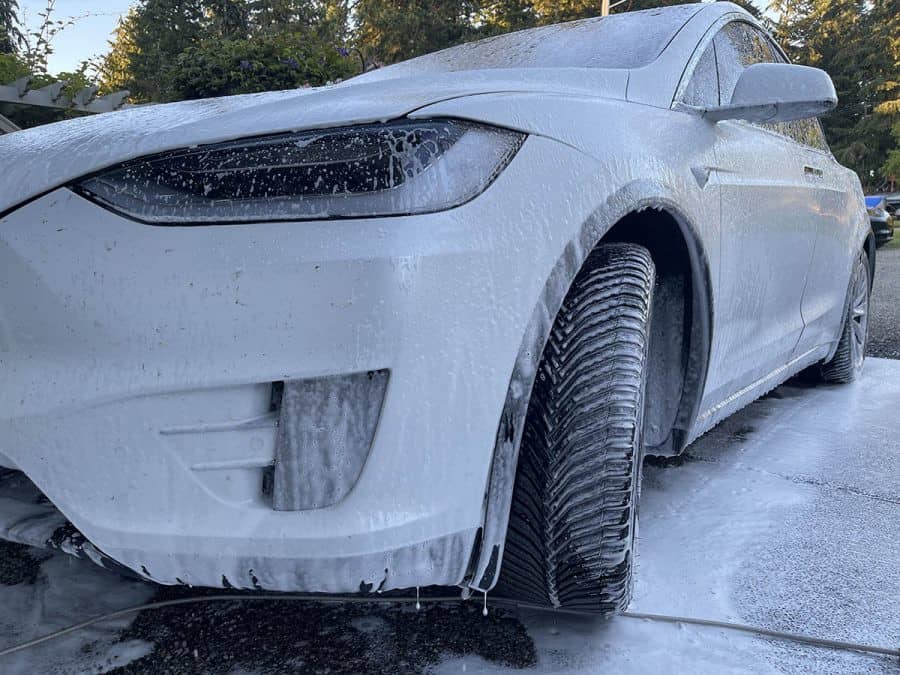 Optimum No Rinse Wash and Shine
There are types of car washing products that do not have to be rinsed off after application. Optimum No Rinse Wash and Shine is made with polymers that bind and catch any dirt on your Tesla and dries clean, leaving no marks. It can be applied with a pressure washer after being mixed with water at the correct ratio.
When using Optimum No Rinse Wash and Shine, keep these things in mind for a better clean:
The Optimum No Rinse Wash and Shine should be sprayed evenly onto the part of your Tesla that you are cleaning
It should then be wiped away with a microfiber cloth
It is best to do one part of your Tesla at a time to avoid the product drying before you could wipe it away
You should only need to use light pressure when wiping the cleaner off your Tesla. Since the cleaner traps the dirt, it wipes off very easily.
After wiping with a cloth, the remaining moisture will evaporate off your Tesla, leaving a shiny and protected surface. The Optimum No Rinse Wash and Shine leaves behind a light, glossy, and smooth protective coating.
Chemical Guys Honeydew Snow Foam
Snow foam is another type of car shampoo that can be used on your Tesla. The best one is Chemical Guys Honeydew Snow Foam. Their chemistry is superior to any other manufacturer on the market and makes cars spotless.
Usually, you would not use both snow foam and Optimum No Rinse Wash and Shine during the same cleaning. If you are a serious clean-freak, go for it and use both. However, they provide the same level of cleaning, and it is not necessary to double up.
Foam Cannon
Snow foam can be applied to your Tesla with a pressure washer as well. You will need a foam cannon, like this one from from Bravex or one from TriNova to connect to your pressure washer to spray the snow foam. It connects seamlessly and provides an even spray. What I like about this particular model is the wide opening. It makes spills less likely. Many other foam cannons with a standard opening almost feel as though you need a funnel to fill (without spilling).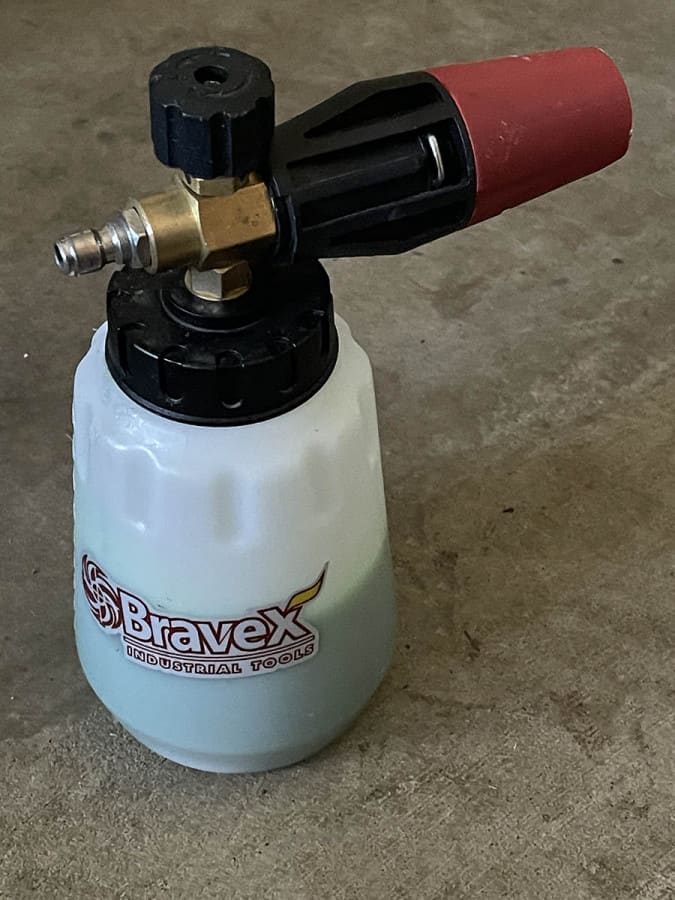 After getting your pressure washer all hooked up to your snow foam lance, you can easily load it with the snow foam and spray your Tesla.
To best use the snow foam and the lance, you will want to coat your entire Tesla with the snow foam and allow it to sit for 5-10 minutes. During this time, the snow foam will start loosening up any dirt or grime on your Tesla. You can get another step ready in your cleaning process, like brushing the tires with a wheel brush while you are waiting.
After letting the spray foam sit, you need to spray it off. Again, if you do not have a water softener, try to use distilled water or a filter on your sprayer. Once the spray foam is rinsed off, you can use the Chemical Guys two-bucket unit to wipe away any remaining dirt off the Tesla.
Chemical Guys Wash Mitt
Wash mitts and/or washcloths are needed any time you are washing your Tesla. Chemical Guys make one of the best wash mitts and are preferred by most people because they fit over your hand like a glove, are super soft, and allow you to wipe your Tesla more easily.
Make sure you use Chemical Guys wash mitts or washcloths that are made for cars and not brands designed for cleaning other things!
They are super soft and will not scratch the paint
They are absorbent and will easily remove moisture
The microfiber material performs great at picking up small dirt particles
Washcloths made out of microfiber last much longer
Chemical Guys Wheel Brushes
Do not forget to clean your wheels! Those rims are expensive, and you want to make sure they last a long time and look nice. The fantastic Chemical Guys wheel brush will be able to get into your wheel well and all around the rim to remove all the built-up dirt and brake dust. Chemical Guys know their stuff when it comes to cleaning Teslas!
To use their awesome wheel brush, use a coating of snow foam to loosen up the dirt and brake dust and then brush away. Or wipe down with car shampoo water mixture first. You may even use a separate wash mitt or washcloth next on the wheels for a deeper clean.
Using a separate wash mitt or washcloth for the wheels is a good idea. It will prevent the possibility of accidentally rubbing brake dust onto the paint. Brake dust can scratch your paint if it is rubbed in. You can purchase washcloths or a wash mitt that are different colors than the ones you use on the body of your Tesla.
Having different colors allows you to easily determine which washcloth/mitt is for the wheels and which one is for the body paint.
Mighty Cleaner Microfiber Cloths
Microfiber cloths are great for wiping off your Tesla after the final rinse. Wiping with a Mighty Cleaner microfiber cloth will ensure you are giving your Tesla a shiny finish along with accomplishing a few other things, including:
Removing potential water spots
Dry dust removal
Removing dirt
The Mighty Cleaner microfiber cloth can remove a great deal of dust and dirt from your Tesla! If your Tesla has been sitting in your garage for a few weeks after you cleaned it and built up a layer of dust, a microfiber cloth is a perfect tool to help get it clean.
Lastly, their microfiber cloths can be used on the interior of your Tesla too. They are great for removing dust and making the interior spotless.
Mothers California Gold Pure Brazilian Carnauba Wax Paste
If you want to protect and seal your Tesla, make sure you use Mothers California Gold car wax routinely. Be careful of other cheaper brands, a layer of low-quality wax could reduce the shininess and prevent that great mirror finish from showing off at its full strength.
Waxing your Tesla will protect the paint, and depending on what type of wax you use, it could dull out the shine. The Mothers brand waxes are better than others and will not cause any noticeable dullness to occur.
Produxa Gloss Protection/Sealant
Gloss sealant is a great way to protect the paint on your Tesla and keep it shiny! Produxa Premium Super Glass & Ultra Shine Spray does the best job of sealing your Tesla. It is not hard to apply their gloss protection, all you do is spray and shoot, and it could keep your Tesla shiny for months or even over a year!
Your Tesla will need to be perfectly cleaned before applying a gloss protector. The gloss protector will leave a coating on your Tesla, trapping anything currently on the car under the coating, including:
Dirt
Water spots
Other imperfections
The gloss protector should be wiped with a washcloth to the Tesla in up and down and/or side to side motions. Only a few light sprays should be needed at a time. After wiping with a cloth, wait a few minutes, then wipe away the excess with a microfiber cloth.
It is recommended to also have your Tesla sit a day or more in a garage while the coating fully cures.
The Best Interior Car Cleaning Products for Your Tesla
Cleaning the interior of your Tesla will be much simpler and faster than cleaning the exterior. You should clean it any time you notice dirt and/or dust to keep it looking nice.
You can even store things like microfiber cloths and screen cleaner in your Tesla and do quick cleaning if you are waiting for a train or stuck in a traffic jam.
Cherylon Portable Vacuum
Before you move on to a more detailed cleaning of the interior of your Tesla, you should vacuum it first, with the compact car vac such as the Black & Decker cordless handheld vac. This vacuum is powerful yet small enough to fit into tight areas. Vacuuming first allows you to do other forms of cleaning more easily, just like you vacuum or sweep before mopping a floor.
Make sure to vacuum:
The seats
The floor
Under the seats
Both trunks
Make sure to not use a low-quality abrasive vacuum attachment and could potentially scratch the leather seats, dashboard, or screen.
Leather Honey Leather Interior Cleaner
Your Tesla's owner's manual will tell you to use mild soap and water to clean the seats. However, you can use the great Leather Honey leather cleaner to get your interior looking super sharp. A damp, soft cloth with a few drops of cleaner will easily do the trick of cleaning your seats.
If you have a stain or something sticky on your seats, use a drop of soap into a bucket of warm water. Dip your soft washcloth into the warm, soapy water and use that to wipe down your seats.
CarGuys Super Cleaner for Floor Mats
If you have carpet-type floor mats in your Tesla, they probably get dirty pretty quickly. Being consistent with vacuuming the floor mats will help keep them clean. To perfectly deep clean the mats and get them like new, use the CarGuys floor mat cleaning solution to give the floor mats a super deep clean and remove stains and spots.
If you have a carpet steamer for your house, you can also clean the carpet mats with the carpet steamer. Be sure to remove the mats from your Tesla first before using the carpet steamer!
One, it would be a difficult fit to steam the mats inside the Tesla, and two, you do not want the excess steam and heat inside the car. It could damage the leather, screen, and/or dashboard.
Meguiar's Perfect Clarity Window Cleaner
Use Meguiar's car glass cleaner to clean all the windows and mirrors in your Tesla. It is specifically formulated to not remove ceramic layers from the glass. The easiest method is to spray the glass cleaner onto your windows. After spraying, you should:

Use a microfiber cloth or microfiber window brush to wipe up the excess.
Polish to leave a nice clear, spotless window.
Remember to do both the inside and outside of all the windows.
WHOOSH! Screen Cleaner for the Tesla Touchscreen
Make sure to clean your Tesla's touchscreen correctly to prevent damage by using the WHOOSH! Screen Cleaning Kit. Avoiding scratches and damage is essential to using your touchscreen for the full life of the Tesla, and the WHOOSH cleaner is formulated to do just that. Make a note of the following list to avoid damaging it:
Do not use tap water because it will leave mineral deposits that look like blemishes.
Do not use a ton of distilled water. A small amount of distilled water is fine to use. Use a small amount to wet your microfiber cloth and wipe the screen. Always and only use microfiber cloths. Paper towels, napkins, and tissues can all scratch the screen.
Do not use a window or glass cleaner on the touchscreen in your Tesla! It can damage it. Only use isopropyl alcohol-based cleaners (like WHOOSH!), and avoid ethanol-based cleaners.
Avoid pressing down hard with pressure, as doing this can damage the screen.
Do not use anything hard to scrape stains off the screen. Always use liquid cleaners and a microfiber cloth with light pressure to remove it.
Chemical Guys Workhorse Microfiber Cloths for Dashboard & Steering Wheel
Since the Tesla dashboard is not smooth, it is best to use a microfiber cloth that has been dampened with distilled water to clean the dashboard. Chemical Guys Workhorse microfiber cloths are perfect to work the dirt and dust off your dashboard and steering wheel.
Using chemical-based cleaners can cause a build-up of the cleaning solution in the coarse parts of the dashboard.