For many car enthusiasts, tinkering with cars is a passion that never fades away. Whether it's a small upgrade or a full custom build, there's always something new to learn and improve upon. For me, I stepped away from the custom automotive scene several years ago, but am getting back into it again. In this project, we'll be diving into a popular engine swap involving a 302 5.0L V8 from a Ford Explorer into a Ford Ranger.
Despite these types of swaps being done for over a couple decades now, it can be difficult to find complete information on the subject. There's also several variables between different years of these vehicles, but unfortunately some contradicting information online too. I'll attempt to document my swap in as much detail as possible in this post and update as progress continues as it pertains to a 1999 Ford Ranger 3.0L V6 extended cab getting a 5.0L V8 from a 2001 Ford Explorer.
Why the Swap?
This one pretty much comes down to more power. I've put some 33″ all-terrain tires with later plans of going with larger tires on the Ranger. The intent was to use it around our property, but also make it street legal for occasional pavement use. With the engine shot, and knowing the factory 3.0L V6 is more than a bit underwhelming in the horsepower department (152hp) to say the least, I decided to look for a Ford Explorer with the 5.0L V8 as a donor. The 5.0L V8 from the Explorer has around 215hp isn't much more than the 4.0L V6 that was also an option on the Ranger at 207hp. The 5.0L V8 does appear to have more aftermarket options for getting more horsepower though.
Parts Needed
It's highly recommended to get a full donor vehicle to perform this swap. These are the primary components you'll need from the Explorer to perform the swap:
Explorer 5.0L engine with all accessories, wiring, and computer

A/C lines
Battery cable harness
Brake booster and master cylinder?
Exhaust manifolds and catalytic converters
Fan and shroud or go with electric fans
MAF

Motor mounts
Radiator and hoses
Throttle and cruise control cables
Transmission and transfer case
The Build Vehicle
This is the build vehicle, a 1999 Ford Ranger XLT extended cab 4×4 with the lackluster 3.0L V6.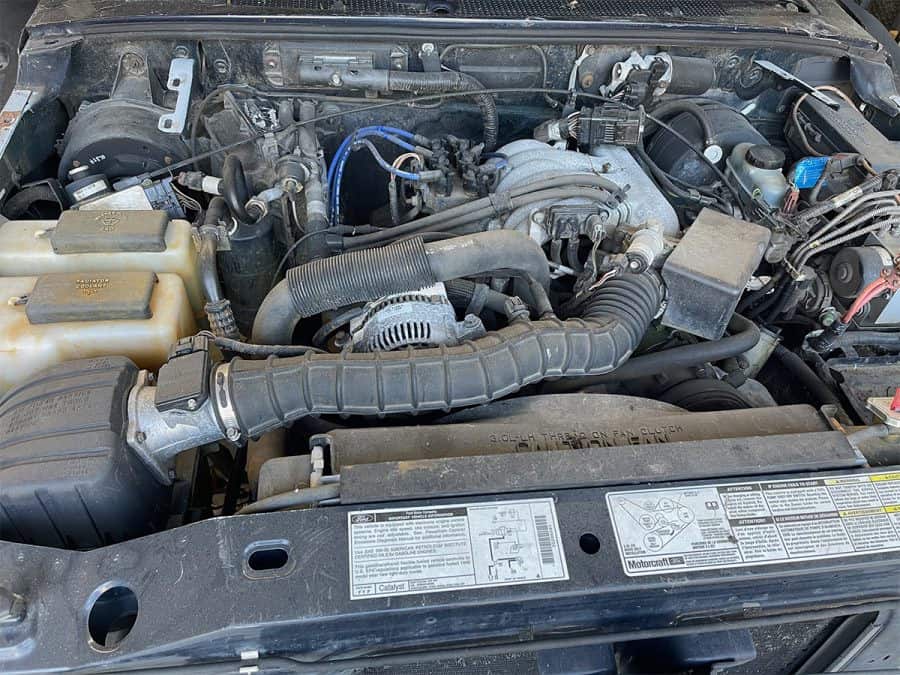 | | |
| --- | --- |
| Vehicle | 1999 Ford Ranger XLT Extended Cab |
| Engine | 3.0L V6 (Blown Head Gasket) |
| Transmission | 5-Speed Manual |
| Drivetrain | 4WD |
| Mileage | 145,XXX |
The Donor
From my initial research, the ideal Explorer engine for a 1999-2000 Ford Ranger would be a 1998-2001 Ford Explorer. 1998 Ranger's do not have the Passive Anti Theft System (PATS), more on that later. This year range of Ranger and Explorer are supposed to be one of the most "plug and play" swaps, I'll see how that goes. This is certainly a higher mileage donor, but I believe it may have been rebuilt at some point. My goal for this project is to just get things running. I may look at getting another engine to rebuild later.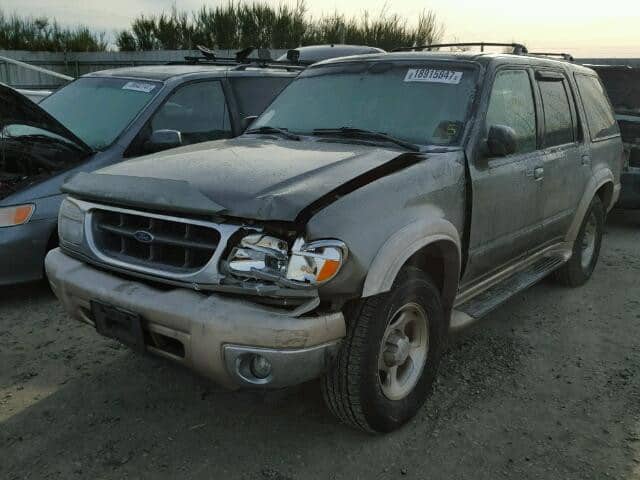 | | |
| --- | --- |
| Vehicle | 2001 Ford Explorer XLT |
| Engine | 5.0L V8 – 302 |
| Transmission | Automatic |
| Drivetrain | AWD |
| Mileage | 177,XXX |
The Ranger V8 Swap Process (High Level Overview)
The engine swap process can be a bit daunting, requiring a lot of patience, hard work, and knowledge. Here's a high level look at the work required. From initial research I've done, these should be the steps required (I'll update this section if needed as I work through this project).
Remove the Ranger engine, transmission, transfer case, and radiator: This involves disconnecting all the wiring, hoses, and bolts that hold the engine and transmission in place.
Pull the Explorer engine: The next step is to prepare the Explorer's engine for installation. This includes cleaning it thoroughly, inspecting it for any damages, and making sure it's in good working condition.
Install the 5.0L motor mounts
Prepare the donor motor, transmission, and transfer case for install.
Connect the wiring and hoses: After the engine is in place, all the wiring and hoses that were disconnected earlier need to be reconnected.
Install PATS.
Test the engine: Finally, the engine needs to be tested to ensure it's working correctly. If all goes well the engine will fire up, otherwise it's time for troubleshooting.
Pulling the Engines
To make it easier to pull the engine, transmission, and transfer case from the Ranger while keeping them bolted together, I ended up using a spot welder cutting tool to remove the front radiator core support. More pics to follow on this. On the Explorer, I opted to cut out the entire inner support for the fenders as well.
Disconnecting Lines/Harnesses – Label, Document, Take Pictures
To remove the engines, several wiring harnesses, hoses, and other lines need to be disconnected. I took several pictures and labeled items that were disconnected. It might be weeks before I get a chance to get everything together, and I wanted to eliminate any future guess work.
Quick Connect Lines
There's a few quick connect lines that need to be disconnected including A/C lines and a fuel line. The fuel line on the Explorer had a decent amount of corrosion and took me a while to remove. I bought this Master Quick Disconnect Tool Set off of Amazon. I went through multiple rounds of lubricant spray and let it soak over night. Going between the plastic disconnects and metal, I eventually tried using a pair of pliers to force the tool in, and eventually it went.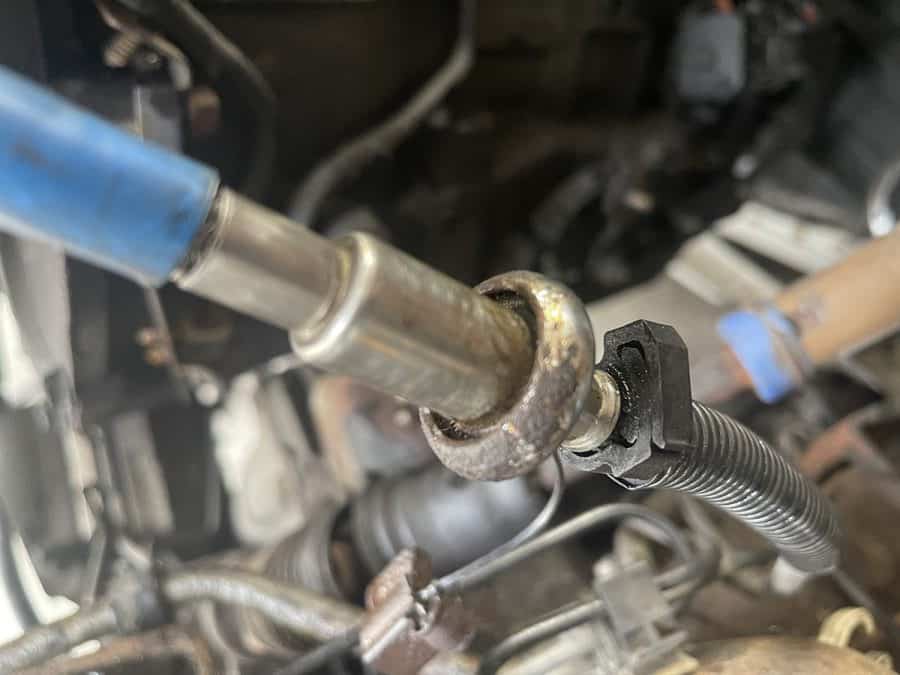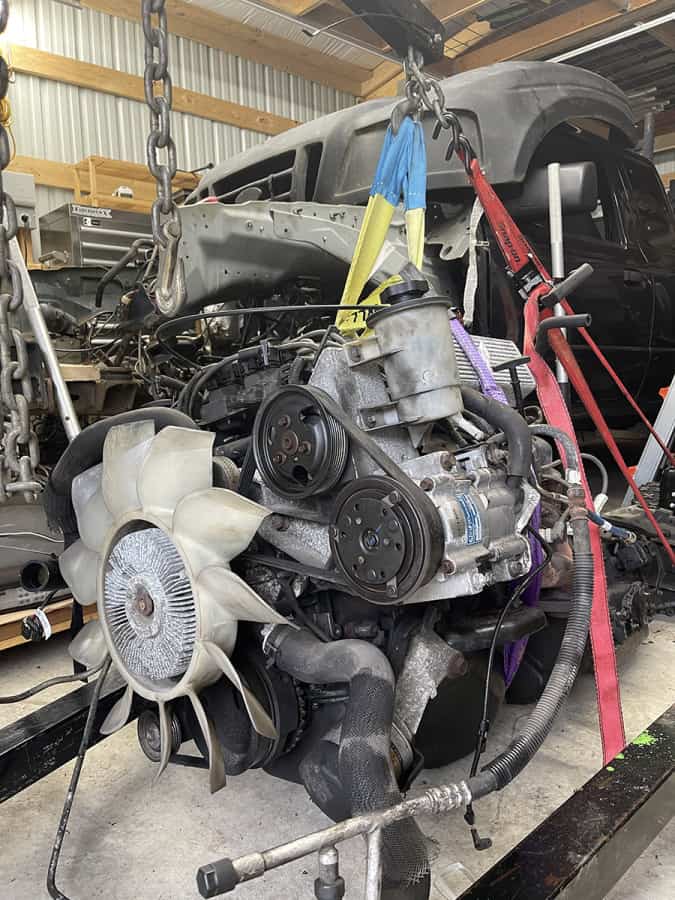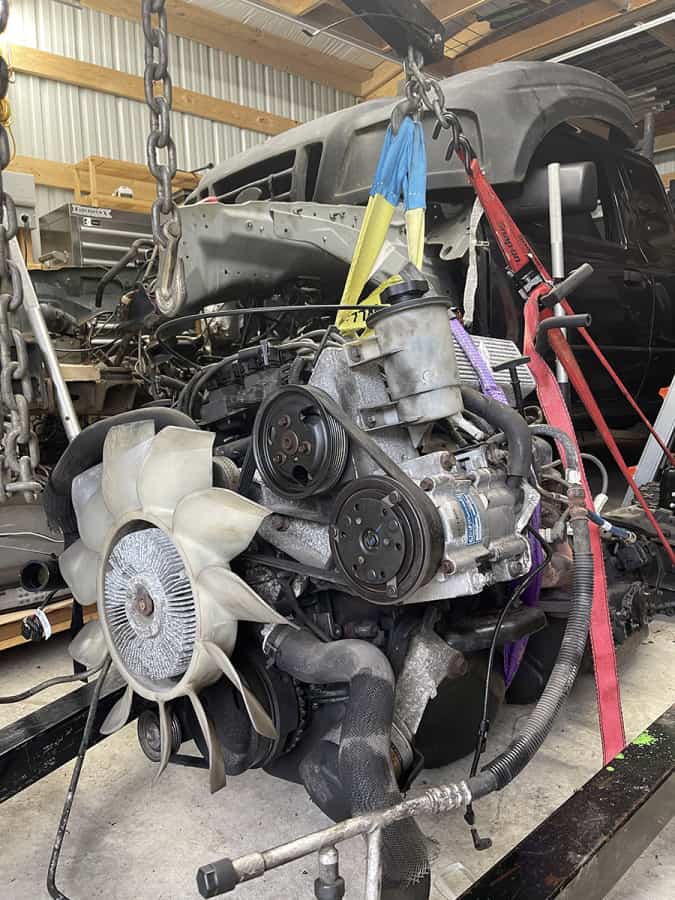 Motor Mounts
I'm currently working on swapping the 5.0L motor mounts over to the Ranger. The driver-side mounts have the bolts positioned differently. I've read where some people have re-used the Ranger mounts and re-drilled or "slotted" the holes in the motor bracket to acomodate. I wanted to make sure things were properly aligned, so I'll be swapping the 5.0L V8 mounts over. Unfortunately, Ford's design for mounting these does not make it easy to unbolt, and this is where I'm at right now.
Note: I'm not sure if the 4.0L V6 or if the 2.5L 4-cylinder have different mounts or if they might be the same as the 3.0L V6 Ranger or 5.0L V8 Explorer.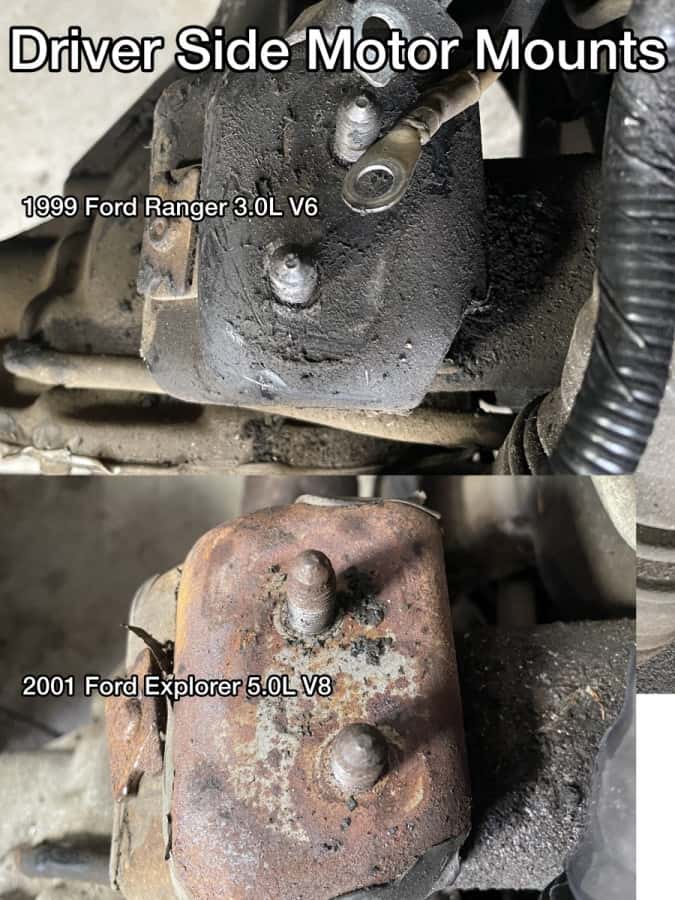 What's Next?
Once the motor mounts are squared away, I'll be ready to drop the engine, transmission, and transfer case into the Ranger. Once that is done, it will be time to start getting everything wired back up and various lines connected.
Ford Ranger V8 Swap FAQ
Can other engines besides an Explorer be used?
Yes, custom motor mounts and wiring may be required and will be a different process than this post.
What if I don't want AWD?
Other transmissions and transfer cased can be used or an adapter kit. I'll likely be looking into this later for my swap, but will stick with the full-time AWD for now.
Is swapping to a V8 legal?
United States law has stated a same year or newer engine must be installed in a vehicle. Some states may also have tighter regulations, be sure to do