Howe and Howe Technologies produces tracked vehicles. They've been doing it for a while now. One of their first vehicles to gain recognition was an earlier incarnation of the Ripsaw back in 2001. This one was unmanned and earned the title of fastest tank in the world.
While they've had military contracts, the Ripsaw EV2 is now available to the public in limited production. Single, two, and four seat configurations are available in their luxury super tank lineup.
Floating Cockpit Design
Things are smoothed out over rough terrains thanks to the floating cockpit design. The cockpit is air suspended for a quiet and smooth ride.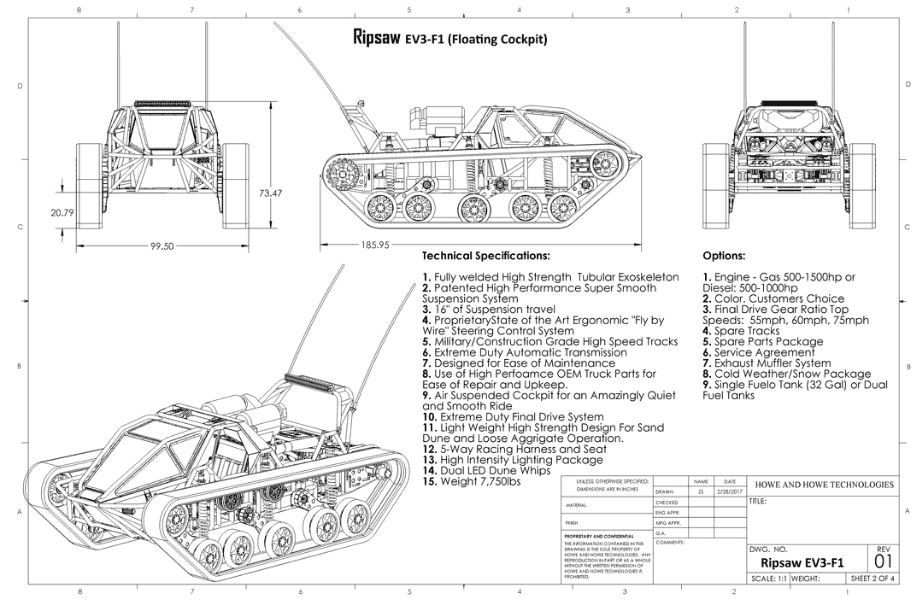 Suspension
The Ripsaw features a "floating cockpit" thanks to a coilover suspension with 16″ of travel. It also comes paired with a set of military/construction grade high speed tracks. To make repair and maintenance easier, several components are borrowed from high performance OEM truck parts.
Additional Specs
For a tank, it's fairly light weighing in at 7,750 lbs. This light weight design coupled with high strength are specifically for handling sand dunes and other loose aggrigate.
Autoblog gets a tour of the Ripsaw and the Howe and Howe Technologies facility. They have several different military, rescue, fire, and law enforcement vehicles part of their lineup. Watch them go airborne waiting for it to bottom out which doesn't come easily!
Options
According to their specs sheet, gas engine options are available between 500-1500hp. Diesel options range from 500-100hp. Customer's do have their choice of color, so yes Bruce Wayne, it does come in black. Spare tracks and other spare parts are also available. Are looking to traverse terrain in sub-freezing temperatures? A coldweather/snow package is also available.
Price
With custom options, the EV2 will set up back about $500,000 (USD). Certainly not for everyone's budget, but there's no denying what an insanely capable vehicle this is off-road!
More Extreme Off-Roading Vehicles
Want to see more extreme off-roading vehicles? Checkout our Off-Roading category!