Certainly not a combination you would typically consider. Ken Block in a tracked Can-Am Maverick X3 and professional snowboarder Danny Davis take over the snowboard park at Woodward Peace Park. They got the opporutnity to take part in a unique video and photo shoot toward the end of the season. The park is located near Lake Tahoe in California.
Boreal Mountain – California
Boreal has various areas including Woodward Peace Park, Jibassic Park (their original terrain park), Pacific High Line, and a 16 ft halfpipe. The mountain also features Wave Pool Flow Park, Start Park for beginners, and Progression Park. In total, they have 34 different trails you can take. Trails are marked as easiest, more difficult, and most difficult.
Like many other ski and snowboard resorts, Boreal offers lessons for beginner looking to get started. Lessons are available for both adults and children. Group lessons are offered, or, if you want private lessons those are available as well, but will cost you a bit more.
For more information on the mountain, check out Ride Boreal.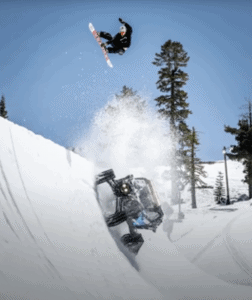 Danny Davis – Professional Snowboarder
Danny Davis' hometown is in Highland, Michigan and he currently resides in Truckee, California. He's competed in several competitions including the X-Games and 2014 Winter Olympics in Sochi. A back injury ended his 2010 season and hopes of competing in the Olympics.
For more on Danny Davis, check out his bio page on his website.
More Ken Block Videos: